Kyle Trout: Pushing the boundaries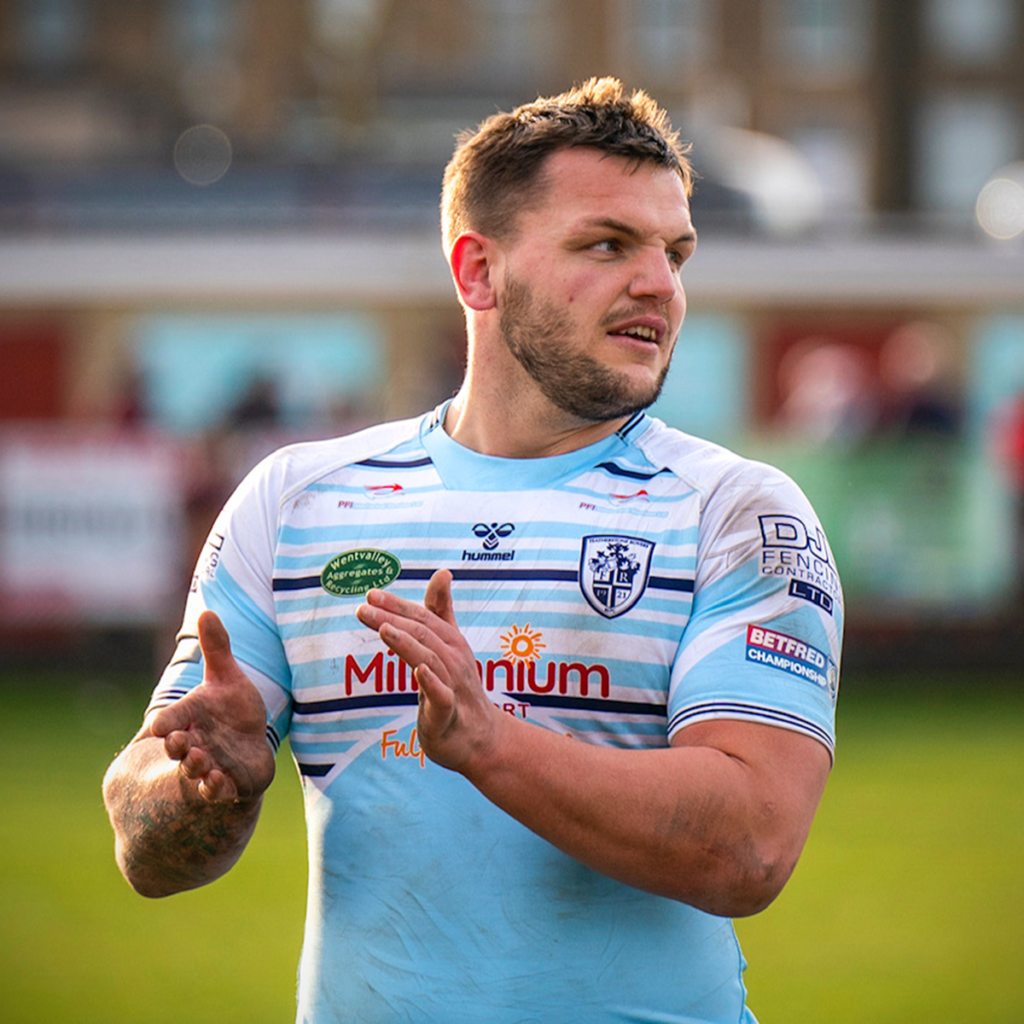 ---
Sport will have a different meaning to everybody. For some it might be purely results-driven, while for others it might be about growth and development of themselves and the wider community.
For many athletes from amateur to elite level it's a balance of both, and rugby league forward Kyle Trout is no exception.
The 31-year-old has autism and currently plays for Featherstone Rovers in the Betfred Championship, the second tier of English rugby league, and has amassed more than 180 games in his career.
Since turning professional he has been signed by 10 different UK-based clubs in the last 10 years and enjoyed a spell in France with the Limoux Grizzlies.
But now he has settled into West Yorkshire and does a lot of work in the community, going into primary schools to help children become familiar to the ball and learn the basics of the game.
On Thursday nights he also works with a local secondary school girls' team, developing their skills and the future of the women's game.
"If they really like it, they might move on and that creates a pathway for people," said Kyle. "And for those who would never have played, it gives them a way in.
"It was through one-day Easter camps – getting me out the house and providing me with some childcare – that I found rugby. The coaches said to go and find a team because I had natural ability.
"That's what pushed me into wanting to work in the community. It's really rewarding even with the little kids, and on the girls programme that we've got, some of them have taken to it really fast.
"I chose to come to Featherstone because of that. They're a massive club with great players and staff but I didn't realise how important the club was to the town.
"Most houses have flags up, and the town breathes rugby league like other places do with football."
Kyle's life was very football-orientated from his earliest years, playing as a goalkeeper for Manchester United schoolboy teams from five years old.
Although he eventually transitioned to a different sport, Kyle has found parallels in growing up in elite football and the life he has lived as a professional rugby player.
"At the age I was, I didn't want to be a professional footballer which sounds ridiculous because most kids do. But it was so professional so early in football – I have a similar schedule now as a professional athlete to what I did when I was a kid.
"Being in nets was a lot of one-to-one coaching and you are being scrutinised: 'You are not making eye contact with your coach, you are not listening'. I'm 31 years old now and I still don't make eye contact, and if my confidence is low then it looks like I'm not bothered.
"That happened a lot in my career – people have said they find me hard to understand or hard to coach. That's the hardest thing to swallow, because one day you feel like you're flying and the next day you feel like you're not good enough.
"You spend all your days off scrutinising yourself and then questioning am I going to play, and it brings anxiety and you don't rest.
"Sometimes I find myself awkward and I struggle to initiate or carry on conversations. It's nothing to do with my job, it's just how I'm wired. People mistake it with arrogance or that I'm a strange character.
"But there are advantages of everything, you just have to find them and focus on them. It's easier to find the negative because we are humans – we are programmed to try and survive and think of worst-case scenarios.
"But even if it is the worst situation in your life, if you could find that one positive, then all of a sudden you can find another and another or that positive leads you to somewhere else."
Kyle has consistently pushed the limits of his comfort zone, which he believes has played a big role in how he has established his career as an athlete.
He has also increasingly felt more empowered by being autistic.
"Before I would never have thought I was autistic, I wouldn't have labelled it, just that I'm different. But I've come to realise that everyone is different anyway.
"I know some of the reason behind why I process things the way I do and I accept that now. If something happens in my life, I know the reaction and the follow-up to it and what to expect.
"I can problem-solve really quickly, quicker than everybody else. Being analytical also helps you develop faster, when I've needed to work on something over time like the skill aspect and leaning the game. Autism has certainly helped in that sense.
"Breaking a skill down to the technical detail at the professional level; there's a specific way to catch and pass so that it becomes more efficient. Remembering moves, and structures, and philosophies that your team puts on.
"I will overanalyse myself sometimes but there are times where I can help boost other people as well because I'm seeing certain details that they are not seeing, specifically what other teams are doing.
"There are not many people who have missed as little training as me as preparation is my confidence – if I've trained well and been doing extra fitness, I'm going into a game with less negative anxiety."
Autism awareness has come a long way since Kyle started his sports journey in the mid-1990s, and work to raising acceptance and improving sports accessibility is still far from over.
But now with more than a decade of elite sports experience, Kyle is certain that sport is a great place to be for autistic people, and that some team-mates have surprised him with how inclusive they have been.
"People say I'm weird and I have always thought that, and that's why I might have distanced myself a bit. But I didn't realise that everyone just wanted me to be a part of it all, so you have to throw yourself into those environments.
"Don't try and predict what people are saying and thinking about you, and don't match your worth to how critical you are of yourself.
"Teams help build your character. I've never had a situation where I've felt I am not part of this team – when we've done peer reviews there's always been positive things, or they say just join in more or that they can learn things from me.
"I played in loads of professional teams in different countries, and things I would never have done if I hadn't done sport. I wouldn't have taken myself out of that comfort zone as I like being at home.
"I've met all these hundreds of people, and I'm not someone who would walk into a changing room and crack a joke, but it's camaraderie I would never have got away from it – going out with the team to social events.
"I could have easily been a 16-year-old kid that said: 'No one gets me, I don't get myself, so what's the point in wasting my time?' But that statement itself proves why it's worth being in sport, because even in the darkest times I knew I wanted to have it in my life.
"Featherstone has big aspirations in the league, and I feel like I am where I am supposed to be."