Alex Lambe: "It shouldn't be a barrier"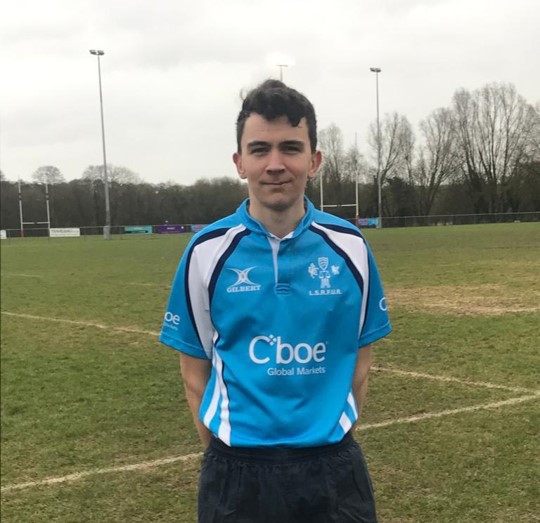 ---
Although in a role that naturally forms more enemies than allies, Alex Lambe is very popular.
"It's 80 minutes of my weekend," he said. "I'm not turning up with the main aim of making friends."
But the time between the first and the final whistle on a Saturday afternoon is just a fraction of the time this rugby referee dedicates to the sport that changed his life.
His rugby league adventure began five years ago, after first attending a London Broncos match, already a keen student of the game back then, having grown up with the union alternative since the age of nine.
Now 23 years old, Alex has hardly missed a beat. Not only is he approaching a decade since first refereeing a game, but Alex is also in tune with modern times – a university graduate with more than 50,000 Twitter followers, whilst also managing the Autism in Rugby social media pages to fulfil a passion close to his heart.
"It's crazy to think what my life would be like without all the rugby communities that I'm involved with. I don't know where I'd be," explained Alex, a member of the London Society of Rugby Football Union Referees.
"We hear the phrase 'rugby family' being chucked about quite a lot and that is pretty relevant to my experience from both codes of the game. Everyone has been receptive to my story.
"Twitter is a great way to start conversations with people, most of my followers are rugby fans, so I chat with them all the time, and sometimes I'd meet up at games with them when the rugby was on.
"I'm not a pretentious person who thinks: 'I've got this many followers' – I try to reply to everyone. Joining Twitter was one of the best things that I have done in my life and Autism in Rugby has taken off as well, raising awareness of autism and how it shouldn't be a barrier that holds people back."
Without the opportunity to referee or follow the Broncos up and down the country, Alex, who was first diagnosed with autism at 18, has had to rely on his online communities to get through lockdown life.
Yet, whilst still currently working for Waitrose, Esher, Alex dedicates time to join Zoom meetings with fellow referees to watch matches and hone his natural eye for detail.
This commitment is not a far cry from the drive and determination of those at the highest level of competition, many of whom have motivated Alex and consequently have been inspired in return.
"Jackson Hastings is a big rugby league personality and saw my kind words about him, along with my story, and followed me back the same day – much to my shock," he chuckled. "I've met various other players who have been welcoming and noticed my story – Scott Murrell was another.
"I suppose I have my favourite players. Peter Mata'utia would be one of them; he has this aura about him, such a positive outlook on life that I feel as rubbed off on me.
"If I could promote more of his tweets and be as confident as him, I'd be doing alright. I just try to stay as positive as possible to not only inspire people with autism but to make people's day by a little kind gesture."
Whilst aspiring to be like his role models off the pitch, he also targets reaching their level on it, admitting there is a more realistic ladder to climb in rugby union, having refereed the code for significantly longer.
But, if he does make it there, it must be for the right reasons.
"I just want to be known as Alex Lambe, not that lad with autism.
"By all means, I want to be an inspiration, but I don't want to be glorified or made out as someone special just for having autism. My autism shouldn't be the focus in this situation.
"I don't feel I have to tell people about my autism anymore because, why should I need to? There might be certain circumstances where I do have to, but I'm no different either way.
"A lot of autistic people just want to be treated like any other person with or without autism.
"I want to be known as a good referee."
Nor does Alex pursue officiating for fame or fortune – the world is much bigger than the turf between two goalposts.
"The best thing I've noticed about rugby is that we are a very inclusive sport and whether it's race, sexuality, disability, whatever it is, everyone is welcome.
"Doing a visually impaired tournament for charity [Walker Ground Charity 7s at Southgate RFC in March] was very rewarding; there were some amazing athletes with so much skill on show, some partially blind or completely blind.
"It was heart-warming to be a part of their development, facilitating the tournament for them, and it was great to have a chat with them in the bar afterwards. It's those experiences that make you appreciate refereeing and how lucky I am to be a part of this community.
"Refereeing has certainly brought me out of my shell. I have a coach who knows about my story, and he's been one of my biggest inspirations; he always tries to bring the best out of me. I was a far more confident individual towards the end of the season, and there is nothing I love more than stepping onto the field.
"The profile of things like Autism in Rugby and Spautism are very important, but the biggest thing is education classes. It's just getting people to understand that everyone on the spectrum is different, including myself.
"I tend not to concern myself with other people's opinions now, in terms of what they think of it and whether they judge me for it.
"I'm still me."