Bobby Trundley: Trundley the trailblazer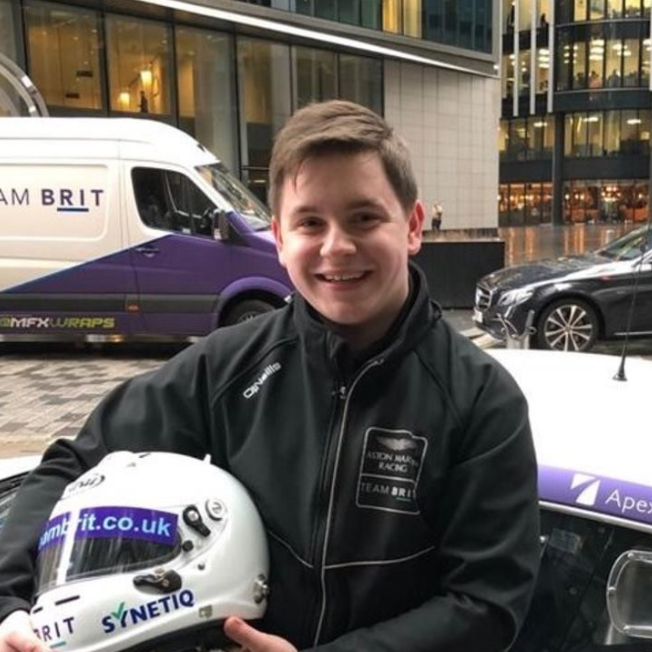 ---
Bobby Trundley loves racing. You can just tell.
He lives it, breathes it, and even took almost an hour out of his mum's birthday celebrations to talk about it.
And today, as Bobby turns 21 himself, if there is one thing that he loves more than racing, then it's proving people wrong.
It's something he's done from the first time he stepped on a track, to captaining the Racing with Autism International team in its inaugural race in mid-June, finishing 23rd in iRacing's 24 hours of Le Mans simulation after starting last in their split.
The competition had over 8,000 drivers across more than 2,000 teams divided into different servers, Bobby teamed up with Canadian Radicals racer Austin Riley, American NASCAR driver Armani Williams, and Sandro Ballesteros, a 13-year-old from Rochdale with a demeanour and e-racing mind far beyond his years.
Also on the spectrum are team manager Max Spooner and last-minute crew chief Andrew Tucker; the six of them being long-standing advocates for raising awareness of autism through motorsport and proving as quite a formidable team throughout the Le Mans competition.
"I started with the car for the first two hours and we worked our way up to 20th [out of 50]," reflected Bobby, who drives with inclusive racing side, Team BRIT. "We were about to move into 18th, but unfortunately, we got damage from somebody joining the track on the last corner. But hey-ho, that's how it works.
"Throughout the whole race, we had aero-damage and no top-end speed, so it was a bit of a struggle, but with few mistakes from everyone, we consistently fought back from our issues.
"We dropped down to around 40th at one point, but we came back up to finish 23rd, which is a blooming good achievement.
"For a group of autistic people all racing together for probably the first time in sim racing history, all doing the best we can, all improving each other and getting that connection together, that's brilliant."
Bobby was forced to wait right until the very end before he and his team could truly appreciate what they had achieved; the 20-year-old brought the BMW M8 GTE home with just four corners worth of fuel left in the tank after natural accidents put their pit stop routine out of sync with their race strategy.
"It was tight, but we still had enough fuel to do a few burnouts!
"When we crossed the line, we were all so happy with the result considering what could have been.
"The guys next time now know what to expect, and if we didn't have those issues, we could have easily been in the top 10, because we lost about an hour and a half in damage and repairs.
"I drive to my maximum ability every time I get behind the wheel. Sometimes I'm not quick, but I'm always switched on, and these 24-hour races, especially with these guys, have helped me learn a few things that I didn't know. It was just a great experience.
"Sim racing during this lockdown has kept the racing side of things alive. Racing is my life; without it, I would not be where I am now."
He'd also have an empty wall in his house – the one behind his iRacing setup is filled with trophies: five-time national DMAX Daytona champion between 2014 and 2018, as well as awards for being an inspirational person both on and off the track; success attributed to his ability to analyse track conditions.
But arguably the most pivotal victory in his racing career was his first.
"It was at a go-karting party," he said. "I didn't like the smell, the noise and the environment, so I ran out of the building crying. And while everyone had their break, they took me out on the track, and I absolutely loved it. I beat them all after lunch.
"When I was younger, I was bullied for it [autism]. I couldn't see people eye to eye, they said I couldn't do this, I couldn't drive, I couldn't race. I've proved them all wrong – that's why I do it.
"I just want to show that if you have autism or ADHD, or a physical disability, [you should] never give up on your hopes. You could still achieve things and compete in the same environment as everyone else.
"If someone has an autistic child who loves music, for example, and wants to learn more, they should let them, and they'll become brilliant at it. You never know, they might make a living out of it.
"My aim in motorsport is to get to Le Mans. I'd race it [on games consoles] all the time when I was young and have a laugh with my mates on there. I miss those days, but it's getting closer and closer."
So, does the sim success mean Racing with Autism International could one day compete at the actual Le Mans?
"Well, we've got to wait until Sandro is old enough [to do it together]!
"I'd like to think that myself, Austin and Armani could do it now. It's finding the sponsors, getting the car, all that sort of stuff, but it is possible. You have got to be in the right place at the right time.
"Imagine a whole team of autistic people racing at Le Mans; it would be brilliant. It shows just what we can do."
But despite doing so well in the Le Mans sim, the last month has been tough for Bobby and his family, his Nan's recent passing proving understandably difficult to come to terms with away from racing.
Bobby's next real Team BRIT race on 1st August is, therefore, a significant carrot that will help him get through these testing circumstances.
"I'm trying to get stickers done that say 'For Betty' on my helmet so I can race with her. I'm confident we'll get a good result as it's my first race in the Aston Martin GT4. That's something I intend to dedicate to her.
"When I put a helmet on, I lock myself out from the outside world. It's my coping mechanism.
"When the [DMAX] championship ended, Warren McKinlay – a previous Team BRIT driver – got me into the team and allowed me to live my dream.
"I am possibly with the greatest race team in the world."