Bobby Beevers: dream, believe, achieve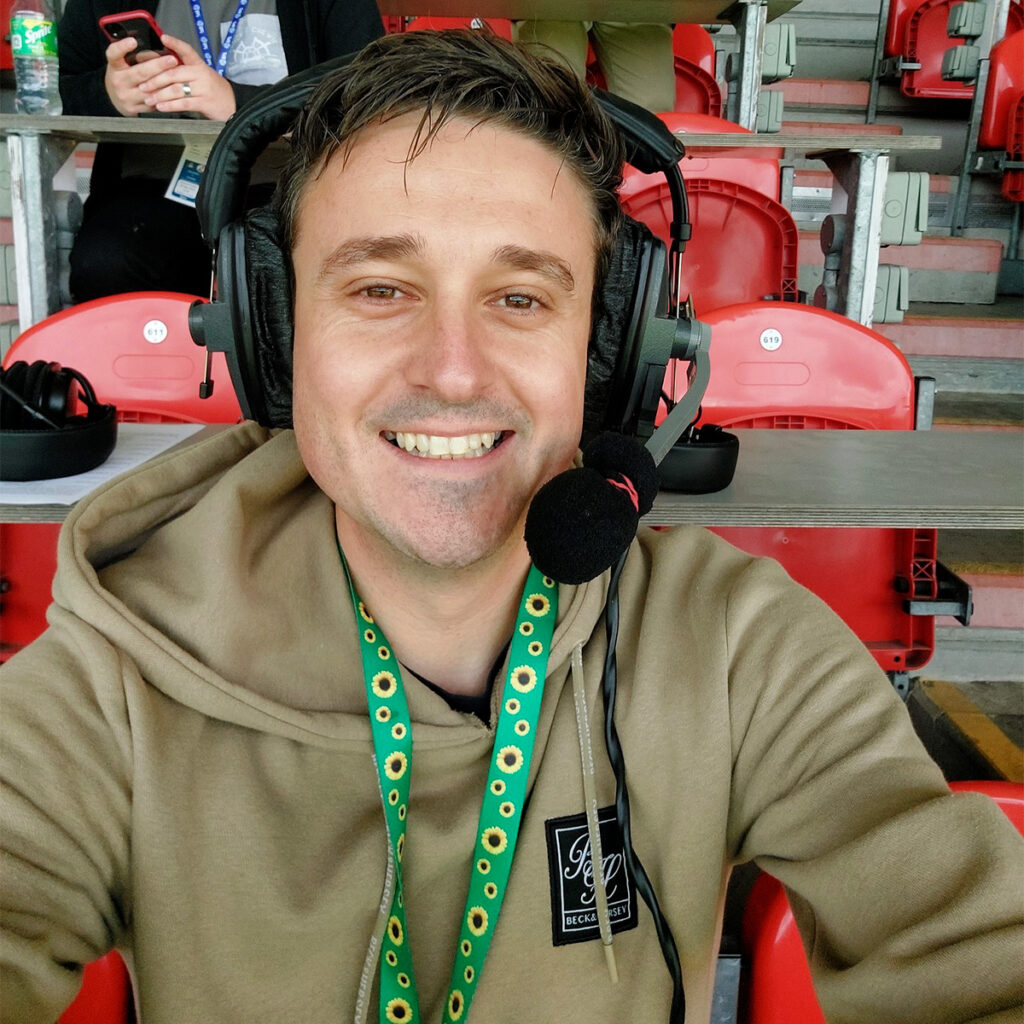 ---
Three decades ago, a young Bobby Beevers was a regular visitor at his nana's house on a Saturday with his parents.
They would have lunch and settle down to watch the horse racing on television; a family of racing fans enthralled by the edge-of-your-seat action at each corner.
Those television broadcasts were Bobby's first memories in racing, broken up by running around the room and flapping which was something he did as a child at home and on the playground.
Bobby and his family would often attend the races in person as well, soaking up the live atmosphere be it a beautiful sunny day or a damp and misty autumn afternoon.
Now 36, his passion for the sport led to his employment as a journalist, reporting about racing for the likes of TalkSport, ITV and the BBC among other broadcast channels.
"I feel very lucky with everything that I've achieved," said Bobby. "Coming into it with nothing, no experience, and getting to where I am now is brilliant."
Bobby now also has a supportive wife and two children. His daughter Sophia is autistic – like her father, albeit he didn't know it at the time; the similarities between Sophia and Bobby later led to him finding out that he was autistic too.
After Sophia's diagnosis, it became apparent to Bobby that there was hardly so much as a conversation about autism on racedays, so he got to work in creating Autism In Racing.
"The first [COVID-19] lockdown was a very difficult period for everybody that we hadn't experienced before and hopefully never do again," he continued. "To go from that and lots of phone calls in secret, bringing a new initiative to the sport [in 2021], and fast forward to where we are now and what we've achieved, I have to pinch myself.
"Racecourses never had autism-friendly days before and it was important we got it right because it's not just a case of turning up, put a sensory room on the course and away you go. There's so much planning and preparation that goes into it.
"You have to find the right raceday and the right place to put the sensory room because it needs to be accessible to a variety of people; we need contact with the families and careers to find out any additional needs for the autistic person who is coming. We send them visuals and they can familiarise themselves with the racecourse so they know where they are parking, what the entrance looks like, where they are going to walk to, what the sensory room looks like, who they are going to see there, who they are going to meet on the day.
"Doing all things like that really helps because they can prepare themselves, and we've had families, parents, carers sending emails of praise saying they now have an opportunity to take their children racing because of what's being done.
"They can be at our mobile sensory room all day if they want, or they can walk around the course because we provide ear defenders. Cheltenham and Aintree have opened their permanent sensory rooms for people to attend.
"We are constantly working, having meetings to discuss what we can do going forward."
Bobby plans for 30 autism-friendly days in phase three of his Autism In Racing rollout plan, which will begin in June, gradually increasing the number from 22 in the current phase to ensure the growth is manageable and his high standards are maintained throughout.
In a survey, 66 per cent of attendees had never been to the races before Autism In Racing, with 96 per cent of those people saying that they would be encouraged to return if Autism In Racing were present.
But it's not just on racedays where Bobby plans to make an impact.
"Racing has so many different careers: jockeys, working at the stable, racecourse groundstaff, accountants and lots more.
"We want to speak to schools and students who want a career in racing and encourage those people. If somebody wanted to pursue that career, it's about supporting them to get them there, and this programme is also there for that person's colleagues and management team so they are aware as well.
"We are hosting a two-hour autism awareness workshop in January [31st] for all sorts of roles and organisations in the racing community – something like that will help.
"If we all work together and we all sing off the same hymn sheet then between us we can achieve so much. We've got to own autism – we are autistic for life.
"I'm trying to help people where I can. The only way we will succeed is if people are talking about it, and there's been so much positivity around Autism In Racing with the press releases, TV coverage, the power of social media; the response we have when we put things out is phenomenal.
"The support has got so big in such a short space of time and recognition for the hard work we have been doing has been noted in racing, football, rugby, and elsewhere."
In the past 12 months following his autism diagnosis, things have clicked into place for Bobby who now understands why he acted the way he did in certain situations. In fact, he wishes he had found out sooner.
"There will be struggles of course, it's the same for thousands and thousands of autistic people on a daily basis, so it's a case of doing the best you can on a personal level."
He has noticed that – through clubs, foundations, community groups, fundraising, and organisations like Autism in Racing and Spautism – sport is playing an increasingly significant part in autism awareness and acceptance.
"We are in 2023 and there's still a stigma with autism and it's really bad. We are people, human beings.
"Barriers also need to come down and they are; sports are really working hard to be inclusive and it's brilliant to see. All sport should be inclusive to everybody and if you do have to make subtle changes then so be it – somebody shouldn't be stopped from becoming a professional sportsperson just because they are autistic.
"If you want to be a jockey, go for it; if you want to be an astronaut, go for it; if you want to play football, go for it. Dream, believe, achieve."