Michael Coleman: Welcome to the Metronomes
---
They say time flies when you are having fun, and the Metronomes went from an exciting idea to having a huge impact in the cricket community very quickly.
After helping to promote the TWS Sports Podcast in their bid to win an award, Michael and Bex Coleman were invited to take part in a charity cricket game – only they didn't have a team.
So, in one night, the Colemans had decided on the club's name, kit, and logo, and players recruited from the couple's own social media network. It involved a mixture of asking people to take part and welcoming those who were requesting to join on their own accord.
A group of players formed, many of whom were strangers to one another, lived in different parts of the UK, and had varying levels of cricket-playing experience. But it was a team nonetheless, and importantly, one that stood for much more than cricket itself.
The Metronomes (https://www.metronomes.cricket/) were founded to raise awareness of autism through sport, and Michael fondly remembers the first time everybody came together in person to practice at an indoor nets facility the night before their inaugural game.
"It was perfect because we were all there to play cricket," said Michael. "Everyone was so nervous meeting each other but because we had cricket, we had something to talk about; there was a target and it meant that the conversations were far more free.
"Sport plays a huge role and obviously the fact that we all love cricket means we've got that common ground between us all and we can all just sit and chat about it. Everyone who joins has got that same kind of, 'I just want to have fun' feeling with cricket and it's great.
"We had about 20 players in the squad for the first game, about 14 could turn up on the day, so it was roll-on substitutes and a few of us didn't bat to get people batting who hadn't played much before.
"Everyone left that ground feeling excited and it was that cricket game you'll never forget. It helped us raise almost £4,000 for the National Autistic Society, including funds from someone who auctioned off a bat and donated about £780.
"It's all people who are so excited to be a part of it; we welcome everyone. We've got a WhatsApp group chat for the core people and then we've got the new players who are going to come in as well. It's all about cricket and if someone needs support, the support's there for them where they can talk more privately."
The inclusive culture that Michael and Bex started at the Metronomes has been bought into by all its members, like Brazilian cricket captain Roberta Moretti Avery, or kit designer Matt Tuffs who regularly organises games in the WhatsApp group chat to help everyone learn more about each other.
"There are conversations in the group about what autistic people need on the day in terms of, 'Can we make it as enjoyable as possible? Can we make them feel as safe as possible?' And just getting the best out of everybody on the day.
"People are coming up with that on their own. They're coming to us and saying, 'Is there anything I can do to make someone feel more comfortable?'
"When we get someone in the group who is autistic they're never out of place, you can see that they feel included straight away and that they feel like they fit in which is what we really want to achieve.
"It's effortless and that's thanks to everybody in the group. They look at the neurodivergent people that are in there and they learn so much from them as to how to best include them in the space.
"It's the same for whether we've got transgender people, gay people, straight people; everyone is understanding how to be around each other and support each other, and they do it really well."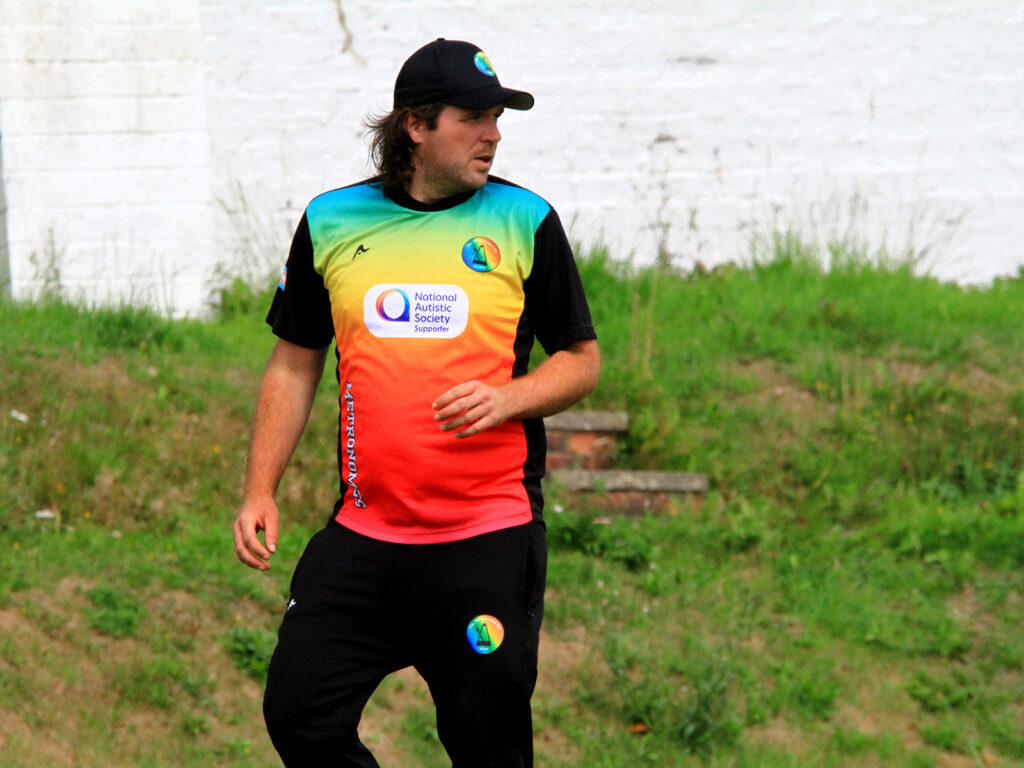 The same learnings are happening in the Coleman household as well. Michael and Bex have three children: Jacob, who has been diagnosed with autism; Amelia, who is being tested for autism; and their youngest, Elijah.
"It's all about how we adapt to their world – it's so much easier for us to dive into their world than for them to get into our world.
"We don't want Jacob to feel like he has to restrict himself in some way to be something that we want him to be, rather than who he needs to be, and we noticed how much more free he is with life when you understand where he's coming from.
"Bex knew he was autistic from day dot. When he was born, he never closed his eyes for 24 hours; he was just constantly taking in the world around him and he hasn't changed since then.
"He's incredible with his memory, his facts and figures, and he loves clocks, which is where the name Metronomes came from. In his room there's about 14 clocks dotted around and he's now put them all on different time zones; his teacher said he's so well-travelled but he's not really, he just googled a lot.
"When going to sleep he'd get worked up about going to sleep, because he thought he had to go to sleep, whereas if he knows that he has to relax, he'll just fall asleep anyway. Changing those little aspects of life has had a big impact and he's not stressed.
"Amelia is tiny and she's sweet as anything. She's got used to masking a lot because it's taken that long to try and get the diagnosis, but luckily she doesn't have to do it around us and she's just finding her way at the minute. The youngest one; who knows? He's totally different to the other two, though."
Please copy and paste this link for more info on the Metronomes' upcoming matches, starting on 23rd April at Higham Cricket Club in Barnsley: https://www.metronomes.cricket/future-games-2023#h.3bsd7zjbutqg
Now the Metronomes is a family in its own right: a constantly growing community of players and fans. Not only does the club sell merchandise – from pin badges and t-shirts to cricket-inspired coffee – to raise funds for autism charities and initiatives, but it also supports many people in taking up the sport by using social media to signpost friendly clubs and share details of those who are in search of players.
"We've got our website www.metronomes.cricket which is nice and easy to remember, and that has got a joining page which then just sends an email to me saying that there's someone who wants to get involved in the Metronomes. We're also on Play-Cricket so people can join on there, or they can just get on Twitter and send a message that comes straight to me and we'll have a chat. So there are the three easy ways to join.
"Everyone is welcome and people can put in as much time or as little time as they want.
"We are going from one fixture last year to seven fixtures guaranteed this year, and if possible, two more to play. To go to them we need to make sure we have enough players so we need to double the size of the squad.
"Next year, there's going to be a lot more games and all around the country, so we're going to be going to Manchester; we'll go to London again, the Midlands and hopefully a fixture up near us in Newcastle.
"And we're going to try and add more information, especially on the autistic side of things because we are raising money but we also want to raise awareness of how you can be around your loved ones and your friends who are autistic and just make that world easier for them."
A new Spautism website is coming soon…