Todd Hodgetts: the happy Hulk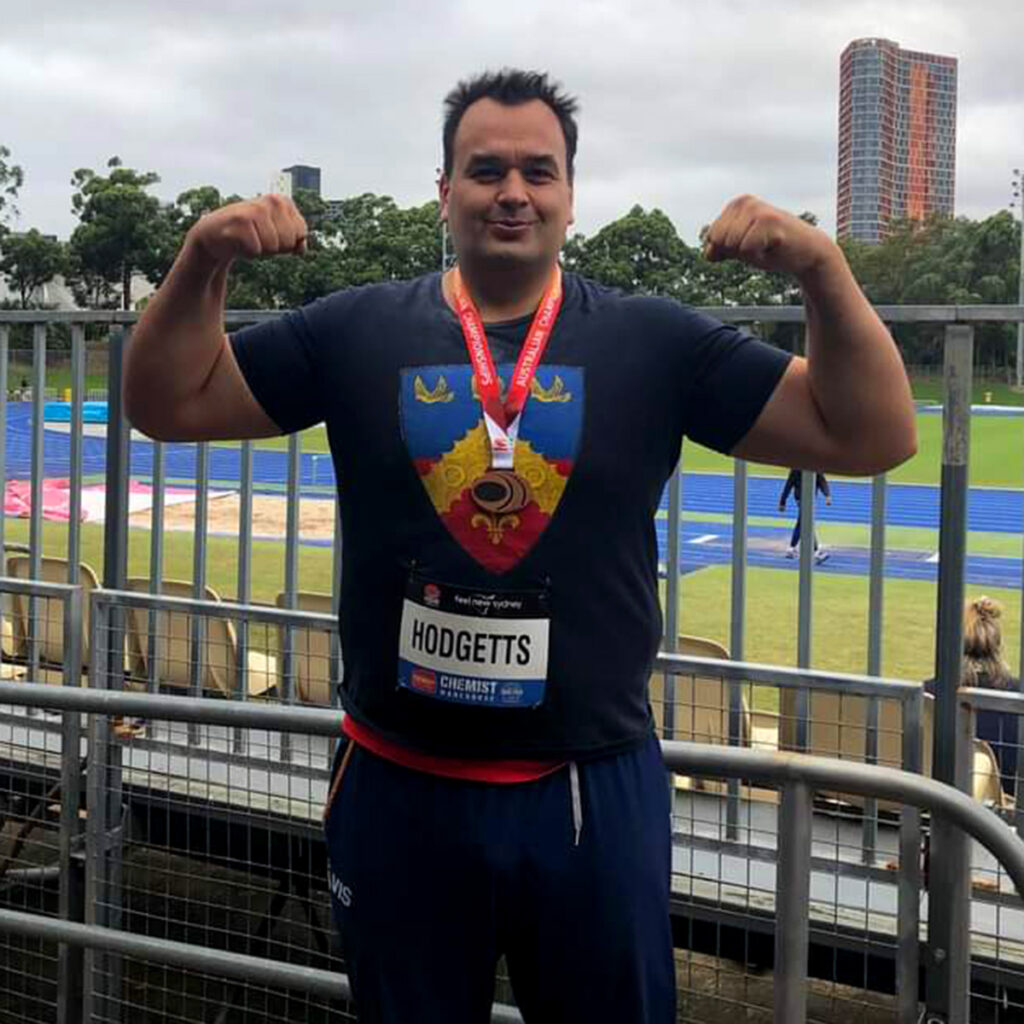 ---
Todd Hodgetts is quite a legend in Australian shot put.
In his career Todd has collected a Paralympic gold medal from London 2012 as well as a bronze from Rio 2016, and three World Championship medals including one gold.
He is now training for his fourth Paralympics in Paris next year, and after finishing a two-year strength-based training block, he is now working on speed-strength which is more focused on dynamic lifting and his movement.
After first picking up a shot put when he was a child, the Australian became a strength-sport enthusiast and started competing in 1998, so has plenty of experience being an athlete. But Todd is continually learning about his mind and body as he to adapts to changes and prepares for future competitions.
"I'm in my 30s now," said Todd. "I need a lot more rest in my training programme – at least 24 hours' rest after a double-day session – but I have to still work pretty hard.
"I used to make a lot of noise in the gym because I was very passionate and I was doing a lot of lifting back when I was weightlifting, powerlifting, and doing the hammer throw as well as shot put. I wanted to be the world champion in four different sports.
"I used to be loud and scare people. One of my mates called Dave named me the Hulk because I used to make a lot of noise and drop all weights, and when you lift a 260-pound weight above your head it makes a bit of a noise.
"I've been training since I was 10, lifting weights and shot putting. It's given me an open door."
For anyone unfamiliar with the sport, shot put involves pushing a metal ball, weighing up to 7.26kg, through the air for the furthest distance.
Over the past decade the sport has also given Todd new opportunities outside of competing.
While recovering from an injury of his own, massage therapists at the Australian Institute of Sport introduced him to their side of the physio room.
"I enjoy helping people in a bit of pain because I've had a lot of injuries and I know how to recover. You can [reach your own back] you just got to find the tools, so I whack a few shot puts on my back and wrap myself up in gladwrap and hot cream, like Deep Heat.
"It's taken me 10 years to finish my diploma in massage and I went few a through different schools; if I got sick of the school not providing for me I'd go somewhere else where people understand me. Because I'm big and strong some people get intimidated; I'm uncoordinated so I bump into things and people by accident because, but I don't mean to hurt anyone.
"I can't read and write properly and it also takes me a bit longer to understand the content but I'm really passionate about what I do. It's a bit like training where if you tell me I can't do it, then I'll continue to do it.
"I just want to be an advocate for people and massage suits me because its less reading and writing for me."
As Todd has honed his shot-putting power into the more precise touch of massage – two opposite disciplines that both require a well-practiced technique and understanding of the human body – the humble, calm, and caring side to his personality has shone through.
Overarching everything, however, is his determination to thrive in a challenge.
"My brother stole a shot put [from school] and I started to throw it around. There was a show and tell and my teacher said I couldn't control it so I wanted to prove her wrong, and fast forward two months later, I broke an able-body record for 10-year-olds.
"My former coach was at a police force club for troubled youths and he introduced me to powerlifting and all these strength sports, which suited my body type. I just love lifting weights and throwing things around.
"I had to work towards shot put; I'm not the most coordinated and I've just realised in my 30s that I can't quite get into the able-body shot put positions because of my balance and coordination. It's taken me many years to figure it out; I had the power but never had the balance and struggled with the dynamic movements because of hypertonia, and I'm still learning about my brain too."
Todd attributes success to being aware of his weaknesses and working on his strengths, which is something that can be applied to making all environments more inclusive for autistic people.
"I don't like the word 'disability', I'd rather the word 'ability'. Focus on someone's ability while being aware of weaknesses.
"For example, when I pick up a pen I'll just fatigue my hand, but I can use words, translator apps, or voice to text so I don't have to use my hand. It's all about the person inside, not what they can't do.
"I can't just train all the time also; I've worked in video operations at Melbourne Sports & Aquatic Centre for 10 years. I have other outlets like massage and public speaking, maybe a podcast in the future, but I don't want to release all that now because I'm still an athlete.
"Shot put gave me an opportunity to get out of a hole I was in in my life, it was an opportunity to make a name for myself by using my strength through sport. I took a chance and went from there; I don't do it for money, I do it to create history."
New website coming soon…