Dan Franklyn: Autistic FC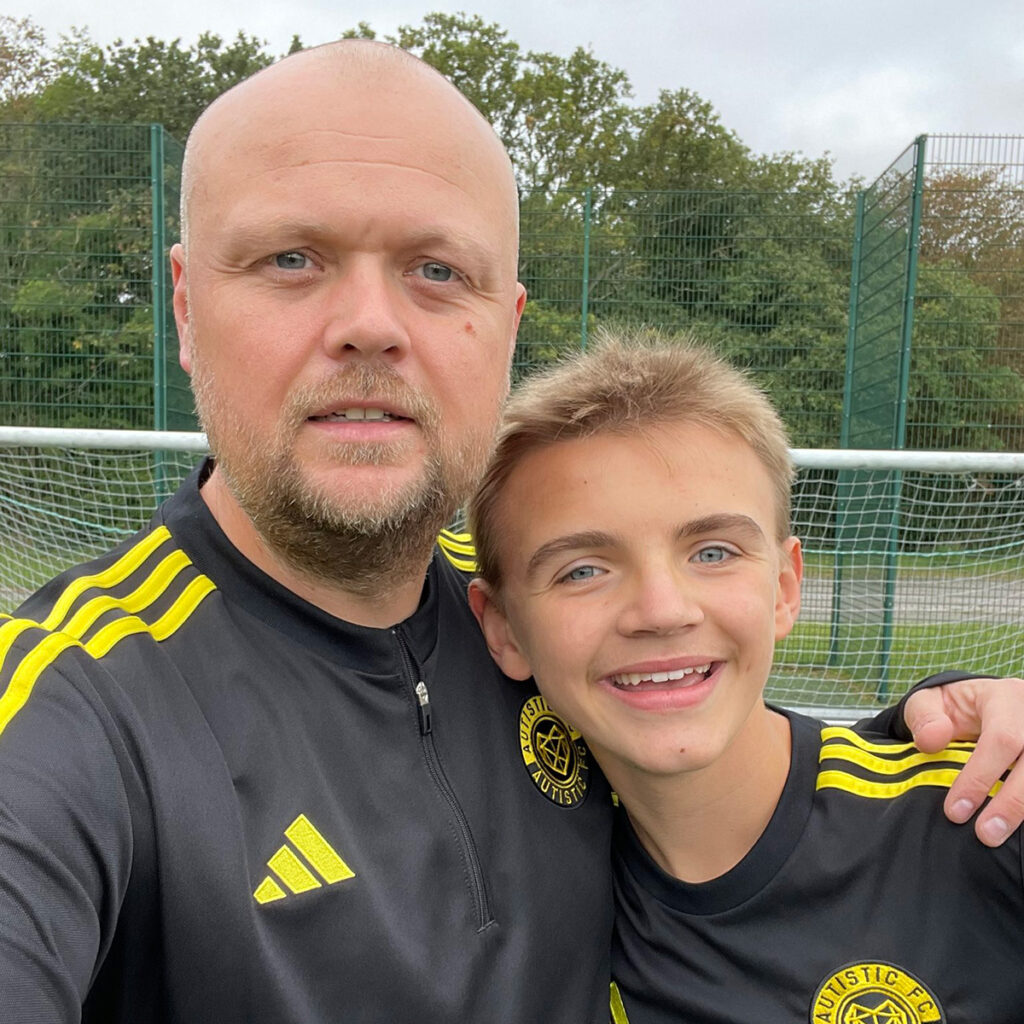 ---
Down in the south-eastern corner of the country, in the suburban Essex town of Brentwood, lots of people are getting very excited about what the Franklyn family and their friends are creating.
Whether its local parents, or national television broadcasters, attention is being drawn to the area by Autistic FC – an idea created by Dan Franklyn's 11-year-old son, Charlie.
"Like a lot of people, he went through phases with Thomas the Tank Engine, wrestling, superheroes – which was my favourite – and then eventually got around to football under no pressure from me and my wife," reflected Dan. "So I decided to take him to a local football club.
"He got into it, but he was just getting further and further left behind and not really getting as much out of the sessions as other people. I'd watch with some of the other dads and it was heartbreaking, and then we would get in the car and he would burst into tears more often than not.
"That comes from not winning because he's ultra-competitive, but he's also very black and white so he'll get tackled and think it should have been a foul, and wasn't understanding the grey areas of football. One day he'd just had enough.
"But kudos to him because he had enough about him to say, 'Should we set up a team for autistic children?' And then something just went off in my head, like an explosion, and we hit the socials to try and draw up some business; my wife runs an inclusive dance school so she's got quite a few contacts.
"From Charlie's brainchild we generated this community, not only of children loving playing football but making friends and helping to coach the little ones. It's also for the parents because it can be a lonely place going through diagnosis, and we have parents at different stages talking to each other.
"A lot of them timidly walk up with their children after it hasn't quite worked in other sessions, but you just see them slowly relaxing because everyone makes an effort to understand each other."
The Autistic FC community is now continually growing, from an online photo gallery showing plenty of smiles, to a club shop that is selling training shirts, shorts, socks, beanies, hoodies, and mugs, allowing people to be a part of the club despite living further afield.
Yet there is a long-term aspiration from Dan, Charlie, and the team, to bring Autistic FC to them and celebrate all their achievements on and off the field.
"Hopefully, one day, we have Autistic FC across the UK. We've been very lucky to be showcased by Sky Sports News and BBC Newsround, where Charlie got to do the presenting, which was really cool.
"We also want to use our YouTube and all the social media channels to allow the children to be role models for others across the UK who can look at them and then want to go and play football themselves, seeking out their own inclusive team.
"One of our lads, James, is one of the nicest boys you'll ever meet and he won a national trampolining competition which is amazing, and Caden during the COVID-19 lockdowns made some lemonade to sell on his driveway to raise money for the club. These are examples that it isn't just about that hour on a Sunday, and we sing about that as much as possible.
"We really want them to feel part of something and be like, 'That's Autistic FC, that's who I play for,' and shout about it. We say to Charlie that he is autistic, but it is his superpower; he's very black and white, very loyal, so kind. While he does find some things tricky, let's focus on the things he's really good at.
"It's important that these children get celebrated, whether they're doing dance or water polo, horse riding, it doesn't matter. They just need to be celebrated and get a seat at the table because that's so crucial."
Since the idea of Autistic FC came about in the Franklyn family's back garden in 2019, the club navigated through the COVID-19 pandemic and is now thriving – even more than Dan ever expected.
"The first session was carnage. We had about 10 to 15 kids who had never done anything like this before, all running different directions at different speeds. It was carnage, but it was great, and we've actually still got a really large number of those children that came on day one, all growing up now and coming every Sunday with us.
"We've got 60-plus children on the books currently, and Yeovil Town have been great with us, as well as Dagenham [& Redbridge] and Southend United.
"We tried to introduce them into some football with some slightly smaller games where there's not 60,000 people screaming, and some of them now regularly go to West Ham, Liverpool, some bigger games which is amazing."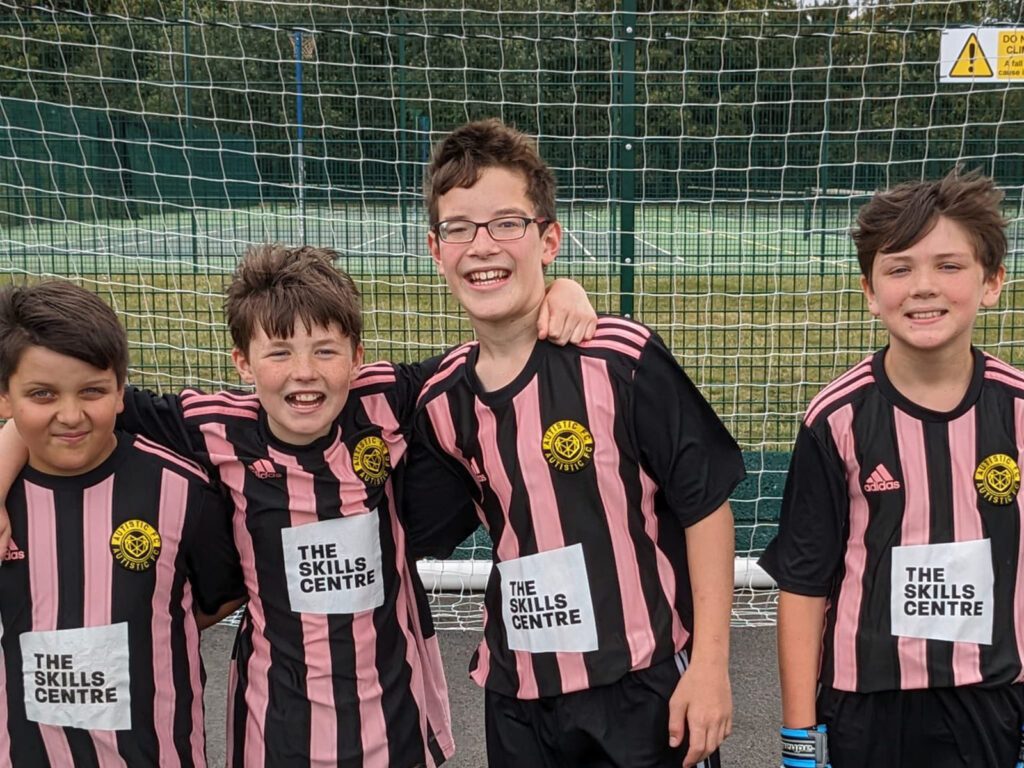 As a Yeovil Town fan himself and a football player since he was Charlie's age, Dan understands the power football can have on people, and he and Charlie now go on 'boys' days out' to watch football.
One of the biggest takeaways Dan has learned from Autistic FC is the importance of getting on someone's level. He always bends down to talk to children face-to-face, and tries to be more welcoming and open-minded – values which extend beyond playing football and into everybody's daily lives.
"The path to employment can be fraught for our players, but they have so much to give and in everyday life and yet they get forgotten about pushed to the back.
"When they get to their late teens, if they want to, we as a club will pay for them to do their coaching qualifications and then they go to help teach the youngsters. It will give them confidence and something on their CV, and then hopefully, we get big enough to employ them and give them some income.
"We just need to make sure that we're giving these children as many opportunities as possible to shine and be proud of themselves. And now there's a structure in place at Autistic FC that could lead to employment.
"As a human race we just need to be more inclusive, and be more understanding as to why someone might be having a meltdown, why they might be feeling a certain way or not looking you in the eye, or not speaking to you. It's not because they're being rude or difficult.
"Being more inclusive and patient isn't just for people with autism, it's for everyone."