Cyril Cox: Small changes, big impact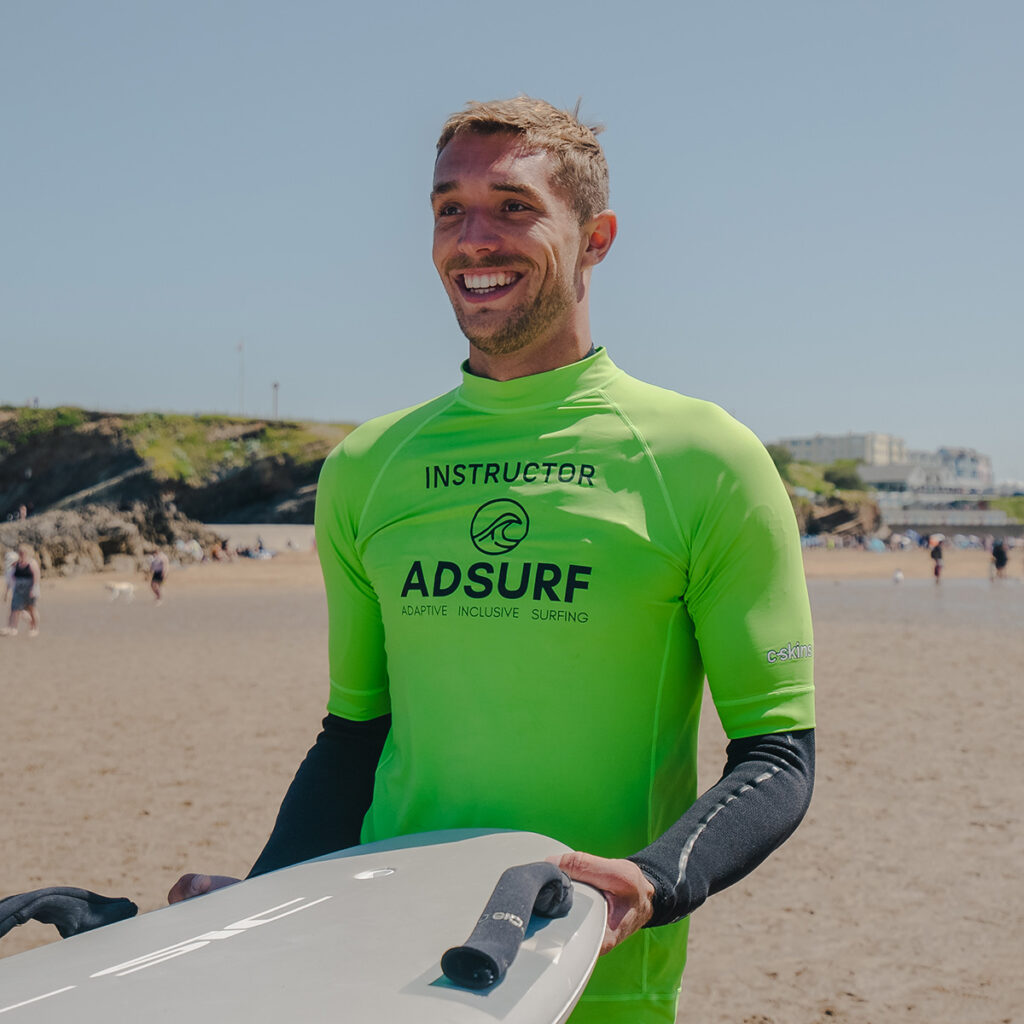 ---
Operating in a small town on the Cornish coast, Big Blue Surf School has helped thousands of people learn how to surf.
The sport of surfing is continually growing in competitive popularity and made its debut in the Olympics in Tokyo two years ago, but it's also a great hobby for individuals and groups, and an activity that a lot of people just want to have a go at.
Cyril Cox and his team at Big Blue are making this happen in Bude, Cornwall, creating sessions that, through adaptive surfing, enable people with a wide range of additional needs to catch some waves.
The demand for adaptive surfing in the area has grown so much in the past decade that Big Blue are unable to cope alone, so Cyril highlighted the demand and the charity AdSurf was created to provide a platform specifically for people who may need more support getting into the water.
Big Blue sessions normally have at least one instructor to every six surfers. Everyone collects their boards and walks down to the beach for a group briefing before heading out into the sea. Meanwhile, adaptive sessions are one-on-one and adapted to suit the individual, from going to a quieter part of the beach, to utilising different enabling equipment for those who need it, such as wider boards to provide extra stability or different designs for wheelchair users.
For Cyril and his team, the session starts from their first dialogue with the surfer and their parent or carer.
"We get a good background of things that might not be visible, that we might have to deal with in a very different way, like sensory processing issues," Cyril said. "Some people don't like loud noises or big groups of people, while some people will come down to us and say that there can be as many people as you want, that they like chatting and they're very sociable.
"Sometimes we'll send a picture of the instructor to the parents, guardians, or enabler who's looking after them so they can come down a bit earlier before the lesson.
"It's finding out information and I can then speak to my volunteer group to say how they are going to get involved, so when we transition into the water we're prepped and ready to go. We're going to treat it the same as every other lesson, but we're going to make small tweaks that are going to have a huge knock-on effect.
"I work with an adult surfer and she finds it difficult to surf if there's too much red in the water, like people in red rash vests, or if there's kites flying around. These sort of logistics are things I have to work out and they open your eyes – although it doesn't affect me, it can affect someone else.
"We have 'general lessons' but people aren't general. When I teach a six-to-one lesson and someone is less communicative, I may do the lesson in a slightly different way to include them. I would have done that before, but now I have that background knowledge to think there might be a reason behind why they're acting in a certain way; there might be certain things that have gone on that day that have impacted them, so it's asking how can I approach this individual? How can I make it better?"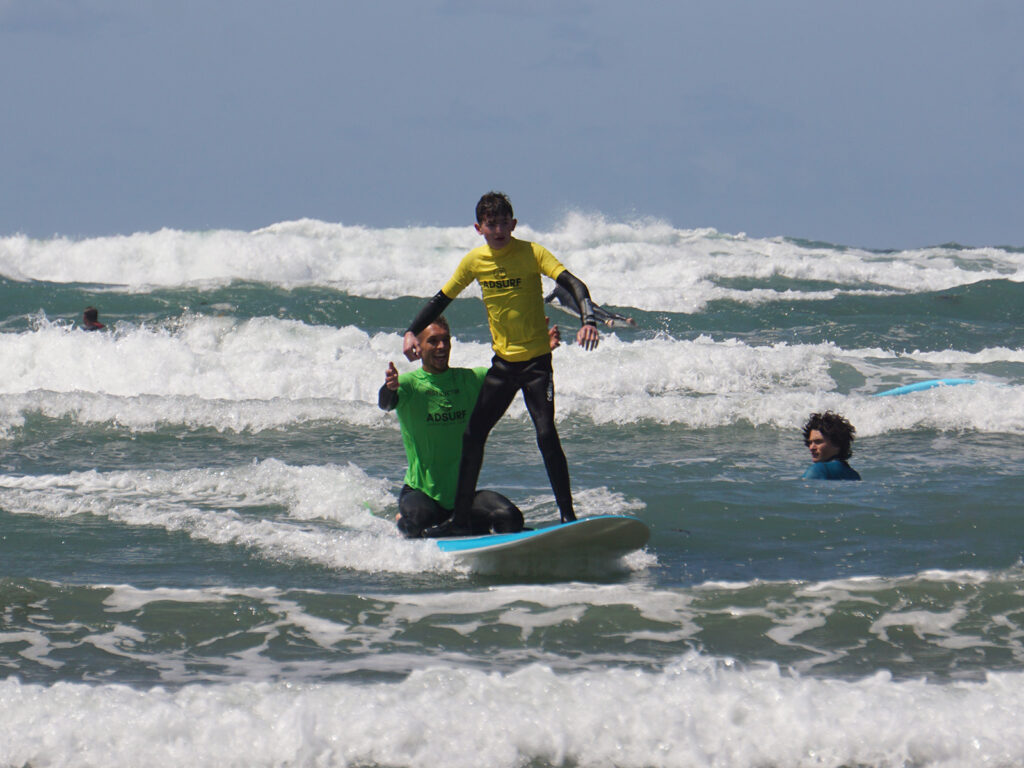 Cyril was initially daunted at the idea of surfing. When he was eight years old, he had already watched his older brother start surfing lessons, but his own aspirations lay in becoming a professional bodyboarder – a similar sport to surfing but the person on the board remains on their stomach.
He pushed through those nerves and loved his first session with Big Blue, attending the Big Blue Kids Club until 15, then working through the beginner, intermediate, and advanced levels of surfing until being offered a teaching job having also completed work experience with his surf school.
Although not being neurodiverse himself, Cyril could see how surfing has a positive impact on people with additional needs, which prompted him to initiate and support the set up of AdSurf.
"There is that one focus, one thing going on and everything else is suddenly not an issue. They're dealing with this one wave coming towards them, then splash, and they go to the next wave and it just channels everything, focusing the mind.
"Then they realise they've just caught a wave on a surfboard when they couldn't even get on the beach beforehand and get in the water, and they've got friends and family around who just applauded and cheered for them.
"The beach, the sea air, it is such a natural environment and it is under-utilised. When the mind is focused, and the environment is good, it's all positive.
"But there's still challenge as well. We are not doing something to take away sensory stimuli, we're putting just one simple activity there and then helping them cope with it one stage at a time."
For those who decide that surfing isn't for them, there are plenty of other ways that allow people to get involved in Big Blue or AdSurf and be part of this close-knit coastal community.
"Volunteering is our biggest thing; we always need volunteers. If it's me running the session, I will still need people to move equipment, or people to be shallow water cover, even for those transitions that involve manual handling. In March of next year I'll carry out some training for current volunteers and instructors and hopefully it will expand from there.
"About 30 to 40 per cent of our adaptive surfers are locals, so it goes beyond just the surf lesson. With the volunteers being local too, they make community bonds and that's brilliant.
"Then also on the fundraising side, the amount of people that aren't so confident in the water but still want to give something has been amazing. We've raised quite a bit of money this year which has surprised me, and with cake sales and raffles we've had so many people getting involved."
While Cyril is well-versed in creating inclusive environments, and with both locals and holidaymakers often enjoying Bude's beach, he hopes his sessions can improve inclusivity awareness.
"When you talk about general public and that awareness, it is very obvious what we're doing – the instructors, volunteers and participants wear distinctive rash vests and we get a lot of interest from people around both during and after a session.
"It's quite clear to see that not everyone is comfortable with huge groups, and some people might paddle over to surf on their own as they prefer that space themselves.
"It's an hour and a half session and I come out feeling privileged. It's given me purpose in what I do."