James Beardwell: Witham Town and DTFC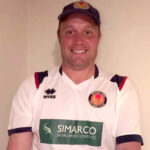 ---
At a time when the nation needed something to make them smile, an unexpected saviour stepped forward.
Born in Chelmsford and raised in Witham, Essex, James Beardwell was only using social media to let his family and friends from football, who he's not seen for a while, know he was doing alright.
But this is a story about inspiration, which can be found in the unlikeliest of circumstances.
James has put his autism and learning disabilities aside to go the extra mile, both literally and metaphorically.
The 36-year-old travels solo to every Witham Town home and away match to support his beloved football club, producing matchday vlogs. For James and many other soccer superfans, this is not just a hobby, but a way of life.
With no football for the foreseeable future, James has shifted his unrelenting support from the sidelines to social media, becoming a beacon of light in these dark, uncertain times as he helps people tackle the coronavirus.
"The most important thing is not just supporting people in the UK, but the whole globe," assured James, speaking to Spautism after his regular trolley collecting shift at Sainsbury's Springfield. "Some people occasionally panic, but I told them not to let it beat them – we will beat this.
"A lot of people have said to me on social media what a fantastic person I am in keeping the positivity going. It's a great feeling for me with all the support around the world, and I will continue to support the world as much as I can.
"Please stay at home, protect the NHS, protect all our workers, including me, and save lives.
"I can't wait for football to come back, but the most important thing is our health and fighting the coronavirus to make sure it goes away. It will make the world much happier again."
James is already taking steps to make planet Earth smile by spreading his infectious character through motivational posts on Instagram and Twitter.
Despite admitting that he becomes extremely anxious when he encounters problems with technology, James is proud of his autism and wears his heart on his sleeve.
"Autism helped me a lot. It actually brings talent out of people in what they do and what they love.
"It never stops me travelling, going to football matches and socialising; it's fantastic.
"I did my first independent travelling in 1999, when I was at St. Mary's School and College in Bexhill-on-Sea, and now I have 21 years of experience – I feel really, really, proud.
"I don't need help very much at all because I learnt a lot in Sixth Form and I really thank the staff for that. I will now help other people with autism to change their lives forever as well."
This ambition also epitomizes the power of sport, something which James understands as much as anybody, having been involved in activities from a young age and playing attacking midfielder for Thurrock Mencap in the Essex Soccability League last year.
"Sport is really important, especially for people with autism. To be able to do a lot of different sports is a learning experience.
"I've got a good community of friends from Thurrock Mencap Football Club; we do a lot of socialising and activities, like discos.
"I still get in touch with my good friend Tom Perry, who was my fellow strike partner; he was an excellent player. Unfortunately, I injured myself last March, but it was my friends there who told me not to retire – they made me feel welcome."
It was through sport that James made national headlines. Despite being the only fan supporting Witham Town at Grays Athletic two years ago, he certainly made his voice heard, with his 'Beardwell's on fire' chant going viral.
An admirable feat, considering that singing solo is hard for many people at the best of times.
"It sometimes gives you a bit more courage, especially because my ambition is to show how to be a fantastic support for your team and help many people with autism cope with independent travelling.
"I remember that away day – all the players came and shook my hand to say thank you for my support, even when we lost 4-1.
"When cheering on Witham Town, I sing at the top of my voice because I want to sound like 60,000 fans getting behind the players.
"Fanbases are so important. We are building one at Witham, and the players and manager absolutely love the fantastic support."
James has been watching The Town for 14 years and was recently handed responsibility for the club's TV channels from former first-team manager Adam Flint.
Now, however, James has his own YouTube account for all his vlogging material, inspired by Arsenal fan TV YouTuber, DT.
Daniel Turner, as he's less commonly known, shares James' passion for football by following the Gunners' every step and managing YouTube-inspired football team DT FC in the Replay Me League and Blud Bruvvas Cup – another club James supports and vlogs religiously by going to their matches in London.
But the Witham wanderer plans to use his social media presence for an even greater purpose.
"I've inspired a lot of people around the globe, even someone from Australia said what a fantastic vlog I did of DT FC, and there was one from America as well.
"One of my friends who has autism loves trains, and when I post things on how I'm getting on with my independent travelling, it probably helps them.
"There's support out there for those struggling with autism from the start, like the staff that taught me a lot of life skills at boarding school [St Mary's].
"It's difficult at the moment with all that's going on, but hopefully people can come together with autism and spread awareness by doing sports – that'll be good.
"We will support one another, to achieve in one another, and help people achieve their goals."