Alex Manners: Around the Grounds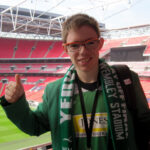 ---
Over the last few weeks, pictures of rainbows have been popping up across neighbourhoods all over the country, as people try to spread hope and positivity amidst these trying times.
And for one colourful football fan, the rainbow is not just a symbol, but an identity.
Meet Alex Manners.
Last year, the Solihull resident finished visiting all 92 football clubs in the top four tiers of English football with his Uncle Tim, a 12-year project that the family duo set themselves after Alex fell in love with football at a Birmingham City match in 2007.
Since starting the challenge, Alex, now 23, has grown to run his own business, delivering talks about his Asperger's up and down the country, and is successfully pursuing a career in presenting – a journey that hasn't come without its challenges.
Secondary education was the toughest of them all; Alex's dark school uniform shackled him from showing his true, and quite wonderful, personality and made him feel depressed. His parents were worried about his future independence and job prospects.
But things changed during Sixth Form, and in donning his stripes, checks and polka-dots, Alex became known as the Rainbow Man. Bright colours are his suit of armour – like the rainbow of hope today.
"When I walked down my estate, the first thing I noticed was several pictures of rainbows," said Alex, who recently moved out of his parents' house to live with his Granddad. "It's really nice that the rainbow is being used as a symbol of hope because anything colourful makes me happy.
"It's proven with my Granddad; he never thought of wearing colourful clothes before, but when he now wears pink trousers instead of black, it always puts a smile on his face.
"I also started to write my own Rainbow Man children's stories which were reviewed for commission by CBeebies. I'm just writing about the characters going to Solihull Moors, and they've already been to a cricket game.
"Colour radiates happiness, and hopefully it can do the same for other people, so try to bring as much colour into your life as you can."
Alex's fondness for different patterns, tints and tones spills into his major sporting obsession, as through the years he has collected more than 100 different football shirts, over 700 programmes, and even more memorabilia.
All his belongings are ordered and categorized in his bedroom, organization being one of several methods Alex uses to cope with his Asperger's – the most significant strategy being his love for sport.
"Everywhere I go, I'll take a football programme with me, so I can read it if I ever get stressed," he explained. "It takes me to a completely different world and I remember the matches that I'd been to, forgetting about my worries.
"I can also head to the squash or golf club down the road. I've grown up around golf – I love being outdoors and all the colourful trousers and jumpers you can wear.
"When I'm on the squash court, I only focus on the racket and the ball and hitting it as hard as I can – it releases all of my stress.
"If you have autism and go onto play sport, it shows autistic people can achieve things, and that their autism doesn't mean they can't play what they want. It's really good at raising awareness."
Like all of us currently in lockdown, Alex's exercise routine is limited, so he enjoys his kickabouts in the garden and makes the most of his Granddad's home-made table-tennis table.
And whilst not being able to produce his 'Around the Grounds' guides on YouTube, Alex is instead recording daily vlogs to support people through this tough time. But that's not to say the former college media student is finding things easy.
"I've been dreaming about going to football matches because football dominates my every thought.
"I'm missing it so much.
"It's not just sitting at a ground and watching a game I really enjoy, but the experience of travelling to a new place, visiting other grounds along the way, and going into the club shop – a football match is like an adventure for me.
"I'm trying to keep positive, focusing on all the matches I want to go to, all the clubs I want to go back to and visit – it's giving me something to look forward to."
The 'My Life Living With Asperger's' author is planning to write a new book about all his explorations of the 92 stadiums and aims to make matches more autism friendly through his 'Football and Autism' campaign – something he started at Solihull Moors, while visiting sensory rooms at Arsenal and Watford.
And now, with a platform such as Spautism, Alex is not alone.
"It's really exciting because it gives people a place where they can go to read about others' experiences," he added. "They might be able to pick up one or two helpful tips or coping strategies.
"A lot of people might struggle with the uncertainty of going to a football ground – the turnstiles, the crowd, the loud noises, the close seating, but there are lots of things clubs can do to help reduce people's anxiety. Sensory guides and information can help them familiarise with the environment before they go there.
"It's understanding that people with autism are all different, and if people who work in the grounds can recognise someone struggling with autism, they might be able to reassure them.
"You might be anxious about going to a new ground, but if you can get through that, it proves that you can go to many more places – places you would not have visited before because you were worried about going.
"Having autism comes with its challenges, but there are so many positive elements, like not being scared to wear brightly coloured clothes in public, not being nervous to stand up and speak in front of a large audience – what I call my Asperger's superpowers."