Michael Smith: A unique gift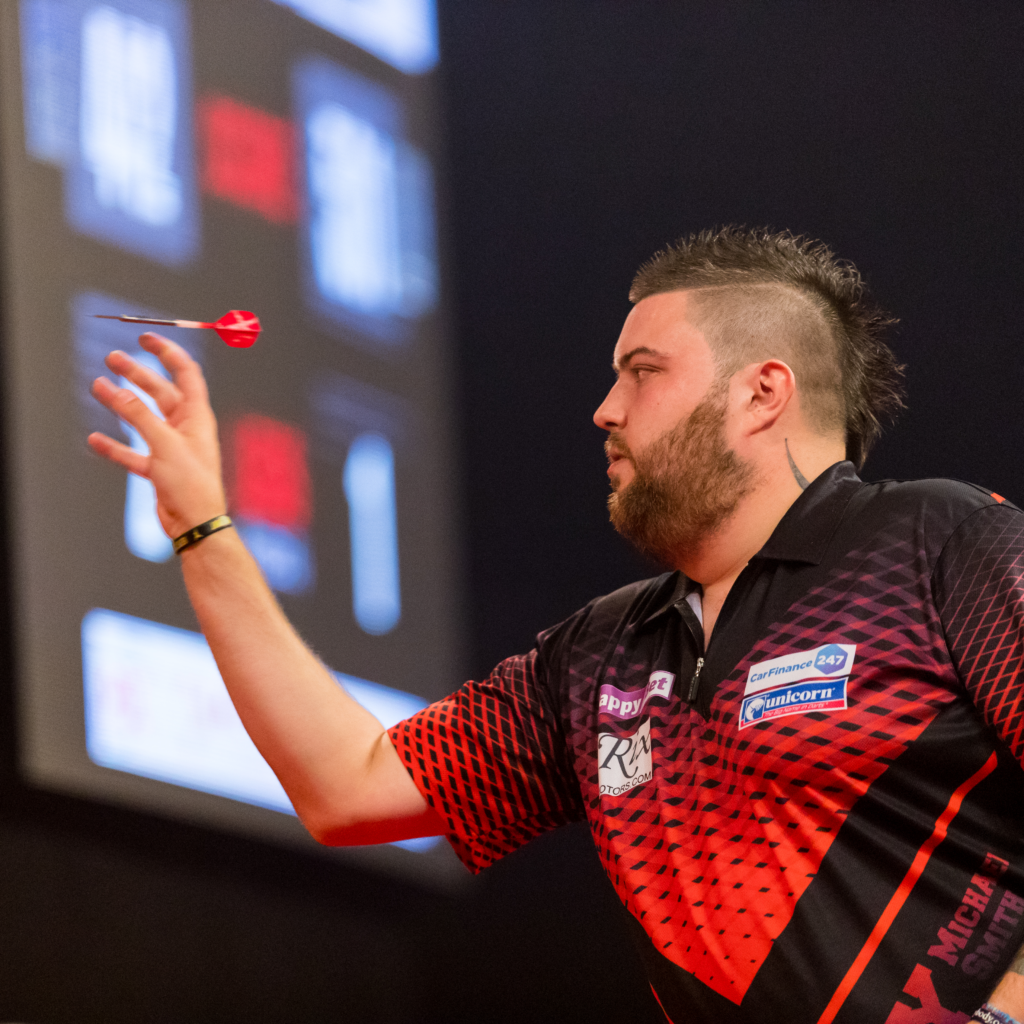 ---
On Wednesday evening, Michael Smith was sitting in the players' hotel bar in Milton Keynes, relaxing in front of the TV that showed Manchester United hosting West Ham United in the Premier League.
It is the main place he enjoys refuge during a tournament in today's climate, a safe distance away from more than just the public spotlight.
But Michael is not one to shy away from a challenge, trying to bring the best out of situations even in his early career. Just four months after coming out of casts, having broken 42 bones across both hands by slipping on some ice one Christmas Eve, Michael won his first PDC Pro Tour event.
Nearly a decade on, now ranked the fifth-best darts player on the planet and in the last four of the 2020 Betfred World Matchplay behind closed doors, his career resonates beyond the darts world.
Michael plays the first round of every televised tournament in an autism-themed shirt, which is later raffled, with the money going to St Helens Autism Support, a local charity that he holds close to his heart.
"My nephew has autism and I'm just trying to raise awareness because I know how tough it is on my sister – she has four kids," said Michael. "It's for other families as well because I know what they are going through.
"It's not all about me now; I've got to look after my family, and I want to look after other people's kids by raising money, so they are not struggling.
"There's nothing worse than at Christmas when some kids get whatever they want and a kid five doors down has literally got nothing.
"At least, if there was a family with an autistic child who needed something, a sensory light maybe, we are doing something to help.
"But one person isn't going to change the world, that's the thing."
Yet, with the entirety of the sports industry under careful watch as competitions return amidst the COVID-19 pandemic, perhaps there has never been a better time for darts and the autism advocate to be in the limelight.
"There hasn't been sport on TV for months. There are going to be people sat at home who have never watched darts before, just seeing what it's all about, and they start enjoying it and see the [autism] shirt.
"They have a look, give a follow, and we raise awareness that way. Everyday someone new must watch it, as long as you can change someone's opinion then it's good.
"It's about making as much as I can in as little time as I've got, because darts could be finished tomorrow, especially with this virus and no fans, you never know. I'm just trying to be better to help myself along as well."
Michael took this refreshing attitude into lockdown, spending more time with his children, shedding three stone in four months, and hosting pay-to-play online matches with darts fans that eventually raised thousands of pounds for the NHS.
As much as darts takes up a lot of Michael's life, it's the lessons away from the oche that have shaped what he believes in today.
"Don't outcast someone with autism. Just give them a chance, and you might be surprised.
"I saw one lad [on TV] who was unreal at history. He knew everything about anything, and he was struggling to get jobs. It wasn't very nice, being outcast for having a special gift.
"This world is very cruel, so you have to raise awareness, not only of autism, it could be other things. It's nice to be nice.
"My nephew is one of the most loving kids out there. His senses are 10 times higher, and he likes his own company, sitting on his iPad. He has a unique gift, it's nothing bad; show respect and he will warm to you.
"It's not about treating these kids as outcasts, but inviting them in – that's what I'm trying to tell people."
When it came down to Michael's darts career, an opportunity was all he needed, albeit after breaking his hip as a teenager by attempting a high-speed wheelie on his pushbike while riding to school.
"I had never played the game before, but my dad did, and I just started watching him because the dartboard was on the back of our front door.
"I asked to have a go and just started playing.
"We had a pub, and my dad had to clean the pumps, so I went down and shocked myself when I had one arm on the crutch and one arm throwing.
"Weird, but it worked."
Michael now finds himself in pursuit of an even more significant milestone, one that is right around the corner, literally; the World Matchplay venue is less than five minutes away from his hotel.
However, Michael knows there is a world beyond his bubble, on the other side of the TV cameras, one with plenty of heroes.
"I feel bad for the people on my fan page because I keep bringing out all these shirts and people keep buying them," he admitted of his autism designs inspired by St Helens rugby league team, who themselves started a similar initiative for the annual Dacia Magic Weekend.
"I could bring a shirt out every week and they'd buy it, but that's just taking the mick then.
"It doesn't take anything from my time. I only play in that shirt, doing my job, not anything extra special. Then when we get home, my wife sorts it out online and raffles it off, so she does all the work.
"I know people have their own ways of raising money and awareness and this is just one of my things – I'm not the best of speakers, and I'm not the best of writers with my grammar.
"The first shirt I ever wore went for £1,000, it was pretty handy and went straight to the charity, and sure enough, it helped out a family in need.
"I'll definitely think about doing more things to support awareness of autism; there are loads of routes to go down. More athletes could do it.
"I'm using my profile to try and get it out there."