Jensen Coleman: Kettering Town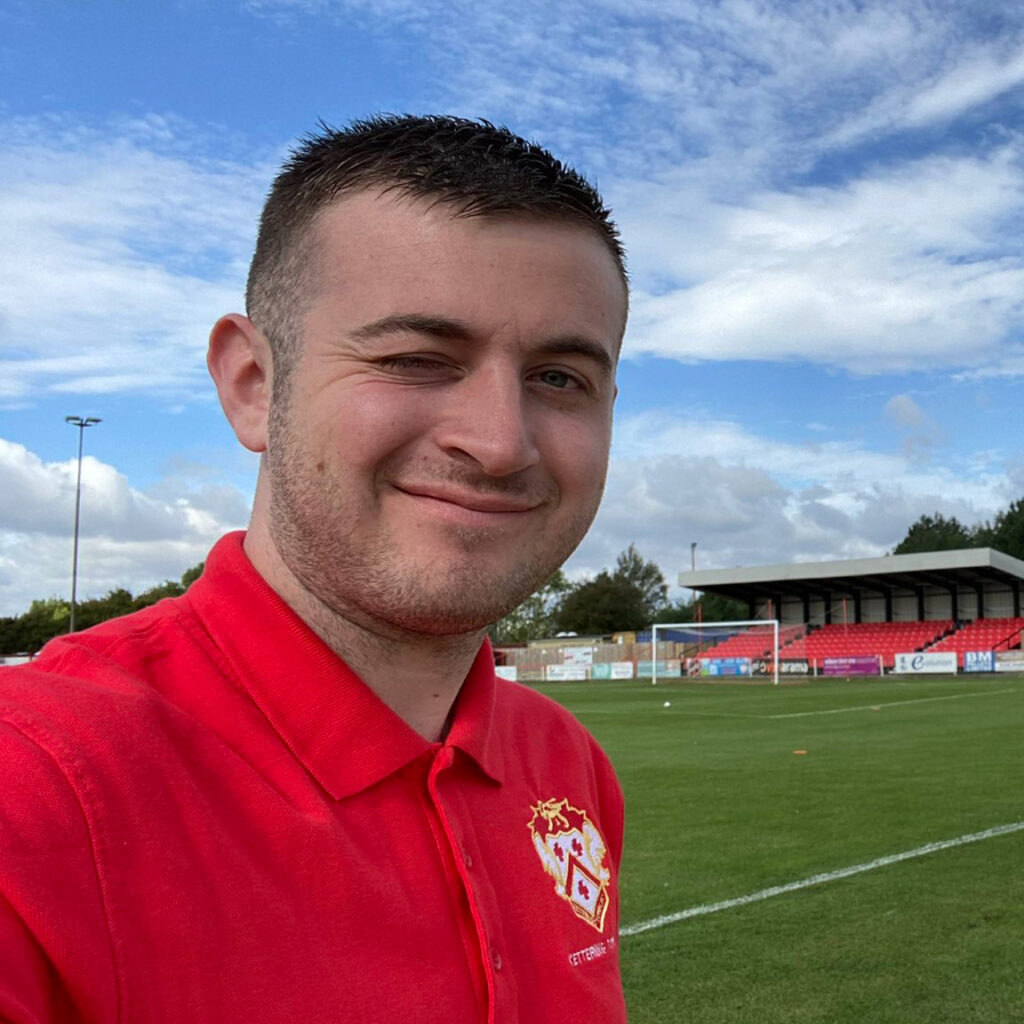 ---
Sport, in the Coleman family, is nothing short of an heirloom.
So, when 19-year-old Jensen, the middle of three Coleman brothers, was asked about what started his sporting journey, he replied with a question of his own:
"Oh, where to begin?"
For a comprehensive answer, Jensen would have had to reel off three generations of family history; memories and tales that despite not being his own, have had a significant impact on his life.
As a child, Jensen's nan was a fan of football in the purest form – supporting Chelsea one week, and rivals Fulham the other, not worrying about who took the bragging rights in the West London derby, but enjoying the game for what it was.
She became a nan after moving to Northamptonshire, and took Jensen's mother and older brother to support their local club, Kettering Town. Jensen's older sibling is also a keen kickboxer, while the younger plays under-12 football, and his dad played rugby until a broken fibula forced his retirement.
But this is the story of Jensen, so let's head back seven years to kick it off…
"Back in 2014, my older brother and mum were no longer able to attend football matches with my nan, so she was looking for someone new to go to games with," recalled Jensen, who also follows Fulham. "That's when I stepped in, and it went from there.
"Beforehand, I wasn't into sport whatsoever, but once I saw the passion amongst the fans, the coaching staff and the players, how everyone came together to create happiness and joy, I fell in love with the beautiful game and everything about it.
"At the end of my first season supporting the Poppies, we were promoted as champions [of the Southern Football League Division One Central] and I was completely mad about it. After a few years just trying to progress in the league above, we were promoted again as champions in the 2018/19 season to the league we are in now, which is the Vanarama National League North.
"I've been a volunteer in the club's media department for just over a year now, and when I first started working for them, they welcomed me with open arms.
"They didn't really take notice of the fact that I had autism; they just said, 'this is how we are going to run things.' The lads I work with are like a dysfunctional family because their personalities are quite mixed – they can be goofy, hilarious, and some just get down to business, which I tip my hat to.
"It's just been amazing to be part of the club that I love."
When his older brother Rhys, having worked in Kettering's media department before, came to Jensen with the opportunity to join the team, he jumped at the chance.
"We're coming back," said Rhys, already on the phone to the club.
Jensen didn't know it then, but those three words initiated the change from boy to man.
"My time at Kettering has made me more mature," continued Jensen. "They welcomed me when I was on the verge of turning 18 and I didn't know anything that was going on, but as the year rolled by, I just felt myself getting immersed in it all and seeing how stuff happens.
"My older brother serves as a versatile member of the group because he can switch between roles in an instant.
"I'm still struggling with communication skills because of my autism. But when I do the Twitter updates, I get the sense that I am talking to everybody at the same time – like a comedian doing stand-up comedy in a night club.
"One skill I have learnt is that I've got to type quickly. If a goal goes in during the first minute, and then suddenly there is a second, you will be sat there typing goals galore and be caught up in all the reaction.
"Of course, things I do in life will be difficult, that's adulthood in general, but this has added a lot to my character. I have defied what I thought of myself."
The role helped instil Jensen with the confidence to move away from home and pursue his newly founded dream to be a sports journalist, studying the industry through a degree at the University Campus of Football Business (UCFB), based at Wembley Stadium.
Whilst there, Jensen would often walk in the footsteps of some of the world's most iconic names, strolling past glorified statues and photos, and across the hundreds of pavement plaques around the stadium that tribute everything from fans and cup finals, to award winners and musicians who performed under the famous arch.
Yet, Jensen doesn't look to the ground for his inspiration but up at the sky.
"When nan died two years ago, I no longer had anyone to go to the football with.
"It was all very sudden because she had a very rare heart condition, but I didn't just lose my grandmother, I lost a football partner.
"When I'm sat in my room at night, I often look at the stars and I would say stuff to myself as if I am talking to her. When I wake up the next morning, I carry her wisdom with me.
"I would not be in the position I am in now if it wasn't for my nan. She introduced me to football and I have loved it ever since.
"I watch Soccer Saturday a lot and seeing all the ex-players reviewing the games helped me visualise the path that I wanted to go down.
"You go to university to learn and develop your skills. Once everything returns to normal, there will be plenty of opportunities and I'll wait and see what pops up in front of me."
But whatever the future holds for Jensen, he has learnt how to help a few people along the way – an ability that he attributes to his autism.
"I have always been one of these shy, awkward, quirky lads, and that might be why people think I'm easy to talk to about problems. They'll just approach me, even a random stranger sometimes, and ask if I can help.
"Sometimes it pays off, and sometimes I give the wrong advice, but autism has helped me gain a lot of friends who are interested in me as a person.
"In terms of sport, it has added to my capabilities and I can now put different skills to use. Autism isn't a disability to me; it's a superpower that helps me reach heights that I never thought I was capable of.
"You should never let anyone play with your mind, and that isn't just a message for autistic people. If you have a dream that you want to come true, it's your job to make sure that it comes to fruition; don't let anyone tell you that you can't do anything.
"Even if it racks your brain for a long time, find whatever you want in life and get out there. Show everyone what you can do."