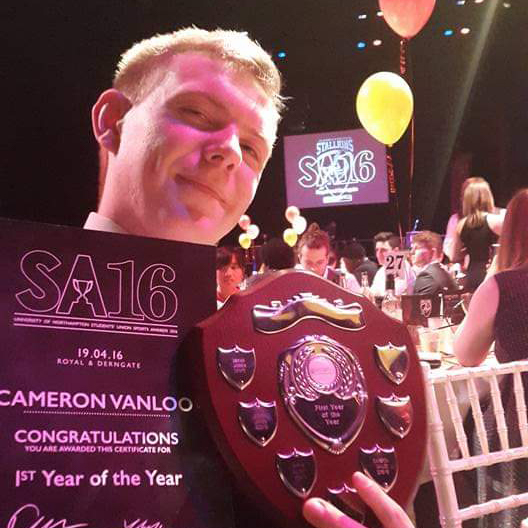 ---
By his own admission, Cam Vanloo was never one for academia as a child, nor did he ever play video games.
Although a keen maths pupil, Cam has dyslexia and disliked school, meanwhile the computer games and consoles that many youngsters grew up with would have triggered his epilepsy, which he suffered from between the ages of seven and 14.
Yet, in a quite incredible turn of events, the 23-year-old is paving the way for a new esports degree as a lecturer at the University of Northampton.
Something that has always been present in Cam's life is his love for sport. As a junior Wales international water polo player, swimming provided him an escape from the world, before swapping the pool for the pitch to become a semi-professional rugby player.
And it was rugby that took him from Monmouthshire, to Manchester, and to a moment of realisation in Northampton.
"I enjoyed rugby at Manchester Metropolitan University, but I hated studying there, so I dropped out and went to Northampton," said Cam, who was not diagnosed with Asperger's until after his epilepsy had cleared.
"I wanted to get my degree and get out into the real world and decided to do Accounting and Sports Studies – a random combination, but still within sport.
"All my housemates played video games and I became heavily involved in the student's union, so because of that, I set up the esports society. We got 300 members in our first year and finished high in the national rankings, and then doing a master's in [esports] events management introduced me to academia.
"The best thing I can do is ensuring students are proud of who they are, what they do, and what they represent. In five years' time, we would have had our first cohort of graduates, so I want them to go out in the world ready to achieve as much as they possibly can, whether they are neurodiverse or neurotypical.
"It's very much a passion project of mine. I don't find it 'work' because it's something that I want to do with my life, and Northampton is a place where students can come from all sorts of backgrounds to become really good professionals."
On top of his course commitments, Cam continues to study a doctorate in esports at The Open University, continually building his fascination for the industry to set up his students for their future careers.
Although these commitments leave less time for sport, Cam still makes the effort to play rugby league in Northampton and Leamington Spa, after the sport helped him and society discover and accept who he was.
"Sport was so impactful on my life because it took away the social pressures and I didn't have to mask constantly. I could also channel a lot of my energy in a positive manner.
"The first team that I joined was very unaccommodating, which purely came down to a bad coach, but there are some amazing teams out there who are super supportive, and they will be the first ones to help you wherever you go.
"If you have a bad situation with a team, do not give up; find a team more suitable because there are some really good ones out there. I go [50 miles] from Milton Keynes to Leamington because I like the team.
"When it comes to autism, sport also has set rules that don't really change. Esports is the opposite as the rules change all the time, but that's helped develop my discipline skills.
"There are a lot of people inside and outside of sport who have been instrumental in getting me to where I am now, and they continue to support me in what I want to achieve. If people think they are alone and in their own bubbles, then it's important to know it's okay to need other people and advice."
After breaking barriers within sport, and prioritising inclusivity and acceptance around campus as a student, Cam continues to act as a person for others to turn to. The only difference now being the staff lanyard around his neck.
"Improving understanding within sport is something I'm passionate about, and although it's getting better, a lot of training still needs to be done.
"For autistic people, a lot of positives come from working in sport, with opportunities in data and information, coaching, and holistic growth. If you are a parent of an autistic child, get them involved in sport because it would build those skills naturally; the people who have helped me the most in my life are my mum and my gran.
"If you have the drive to achieve in sport, definitely follow through with it because you can be an asset. The autistic person in an organisation is not the problem; it's the organisation; they have been employed for a reason and probably have a lot of skills that they can develop.
"Sport is something that builds a lot of character and resilience. When I have children, I hope they will take part in sport because participation has strengthened my CV, and made me a confident, all-round employee."
When he was younger, Cam also spent time designing several imaginary league structures within sport, fueling a passion for stats and competition which he has since carried into all walks of life.
"There are over seven billion people [in the world], which makes everything a competition, and that is really a good driver.
"It has been a big motivator for me to do lots of extracurricular activities and want to be the best. I've been able to translate everything I've learnt through sport, such as the desire to win, into academia.
"I am deeply proud about the fact that I am autistic. Neurodiverse people can be equal, if not better than neurotypical people, because they can work harder and have a passion for it.
"It's not a hindrance in my life at all; it's a blessing."