TWS Sports Podcast: Behind the mic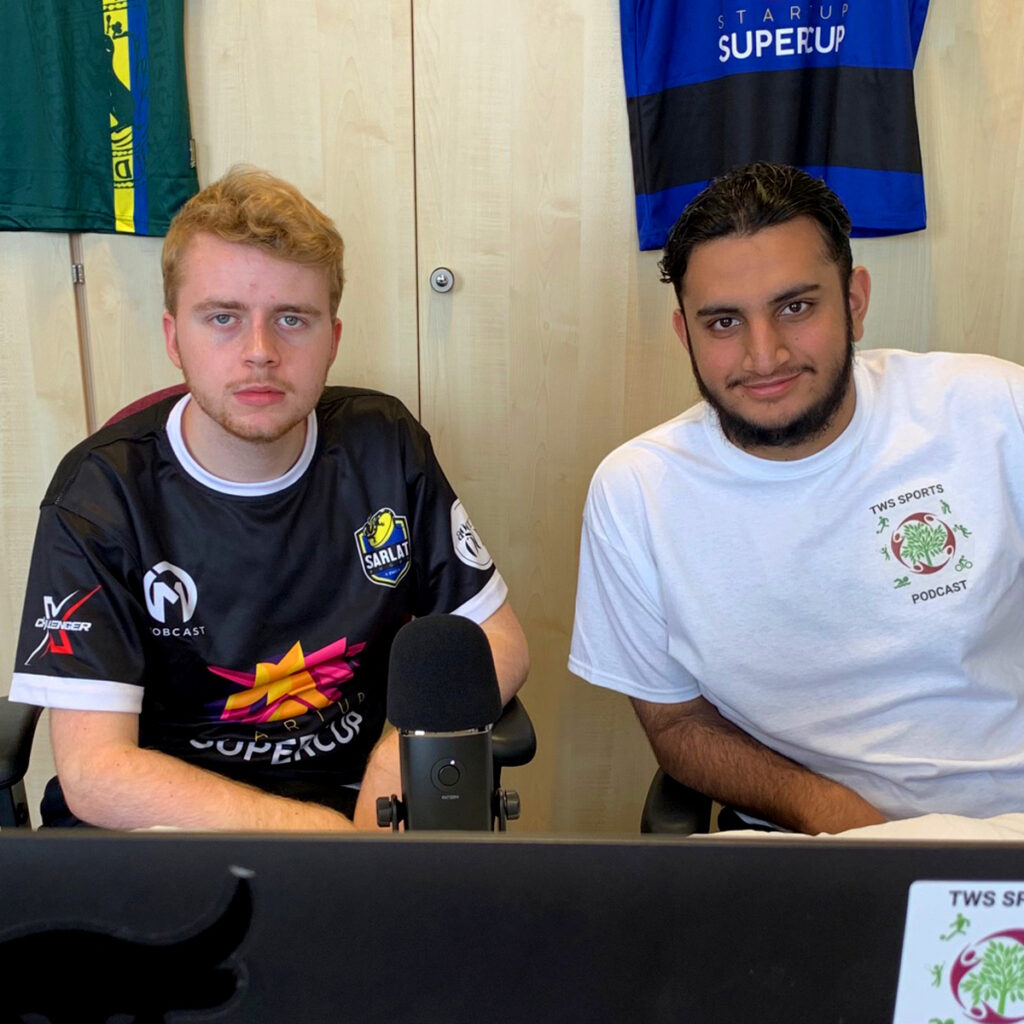 ---
Had you told Tettenhall Wood School autistic students Tom and Avtar that they would one day be attending a film premier as special guests, they would never have believed you.
But as they returned to school following the initial COVID-19 lockdowns in 2020 their teacher Adam Millichip proposed the idea of a sports podcast, putting plans in place for what would become a groundbreaking project.
The TWS Sports Podcast, hosted by Tom and Avtar and fellow students who have autism, has interviewed a variety of sporting stars such as former footballers Joe Hart and Matt Le Tissier, rugby legend Sir Clive Woodward, Olympic gymnast Bryony Page, and A Question of Sport presenter Paddy McGuinness, discussing a range of topics.
Before each episode, Adam will sit down with the hosts to talk about their upcoming guest and think of around 20 questions based on their career. They have now made more than 30 different episodes each approximately an hour long.
The project is also up for a Sports Podcast Award in the 'Best Equality and Social Impact Podcast' category, with the winner being announced at the end of March.
"One of the reasons we set it up is that autistic people can struggle with communication and social skills," said Adam. "Although this isn't true for all people with autism, we thought podcasting breaks down those barriers.
"We do it via Zoom which removes eye contact and body language, and we can control the conversation because we are asking the questions, so it's a really good place for our students to start.
"Since then, we have noticed the boys have become a lot more confident and social, and they've also learnt about the technology they are using – the microphone and laptop systems, editing software.
"The boys have developed skills so they can go off script, deviating a little bit if they want to change the question. They are really improving their question-asking techniques."
Tettenhall Wood School is based in Wolverhampton and its podcast has allowed Tom and Avtar to gain more experience in their special interests outside of the normal curriculum.
When the duo leave post-16 education in the summer, podcasting duties will be given to a group of new students to ensure they can reap the same benefits.
"I like podcasting because I have to take part and enjoy it," said Avtar. "Talking to famous people and listening to their life stories – very good times.
"My favourite sports are basketball and football. I play basketball outside and I want to play NBA because I like to shoot – Adam says I'm very tall so that helps.
"I like NBA and watching the player transfers and teams, and what players and are going to do: dribble, shoot, pass, or defend.
"My ambition is to interview famous people like boxers, basketball players, and NFL players. I want to start a podcast and I have to learn and read a lot, because I need to speak in full sentences. Adam has helped me as I struggle with big words.
"I couldn't speak for years, and I used sign language that my mum taught me. Now I have spoken well the past few years.
"When I talk to someone I don't get worried, like something bad is going to happen. I can help people in my community really stick together.
"Autism needs me, my brain and body, and my autism has been very important to me my whole life."
Meanwhile, NFL fan Tom is now noticing how the communication skills he is developing through the podcast are positively impacting on his daily life.
"I was getting more confident just as the podcast started, but back then I struggled a lot with the questions," said Tom. "Now I discuss more during the podcast and get the flow of things.
"The most I've talked about autism [on the podcast] is recently with Paddy McGuinness because I got a lot more off my chest. I talked about the challenges I have overcome.
"I am more confident in society and the community as well. In public I would ask people how they are doing, or when I go to the gym, I can talk to people and find help – am I doing this correctly with the dumbbells?
"There are still a few improvements that I can make, especially with social skills, but we are lucky that the guests agree to join us on the podcast and we are grateful for everything that has been set up from when it started in May.
"I want to go to college to do business studies, then afterwards I'll get a part-time job, maybe in retail. I will continue to work on projects and my dream goal is to be a popular YouTuber and entrepreneur as well.
"I look up to everyone we have chatted to on the podcast because they all have their own charisma and goals about where they are heading in their lives."
Tom has also been inspired to take up a new sport of his own.
"In my childhood I used to get easily bored. I did quite a few sports clubs in primary school: table tennis, tag rugby, football, and dance club which was fun.
"At one point, they had taekwondo, but I only did it for three days and I then told my mum that I didn't want to do it anymore. But I regret that now because that would have actually been really fun.
"In the future when I'm older I want to try kickboxing. One of the entrepreneurs I follow is up to their yellow belt; it's really good for fitness and looks similar to taekwondo."
Tom and Avtar haven't had to wait long for opportunities outside of podcasting.
Keith Mason, who is a former rugby league player turned actor and was interviewed on the podcast last October, invited them to a premier of his film Imperative.
"There were hundreds of people there," said Adam. "Tom spoke to the cast and the crew very well and was really confident.
"We are getting other opportunities which the boys are learning and developing from, and other skills that are not just from podcasting.
"Like a chat with Spautism for example – a more informal chat with the boys answering questions, because usually we ask them. Answering questions is a really good skill.
"We are going to be in a film in a couple of months because Keith Mason asked us to have a little part in his new movie, so that will be an amazing opportunity for us.
"The boys can really take these skills and move forward in whatever career they decide to have."