Hayden Fryer: Football, frisbee, and lifelong friendships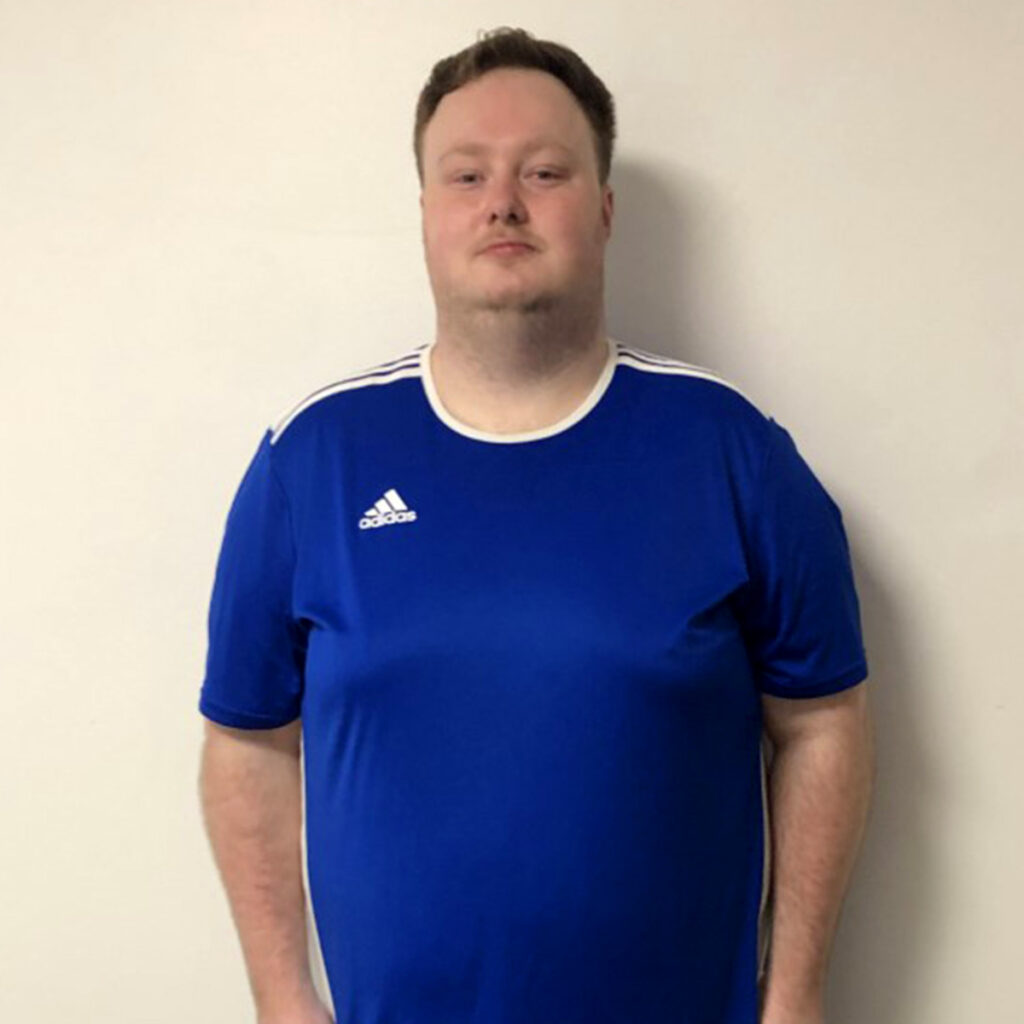 ---
When he is not at work, there is one place where you will most likely find Hayden Fryer – on a football pitch.
The 28-year-old has played in a variety of local leagues since his early teens, ranging from five-a-side up to 11-a-side in his home town of Hoddesdon in Hertfordshire.
He has built a reputation as a goalkeeper who teams can call upon when they need a shot stopper, and also runs his own six-a-side team which plays on a Tuesday night.
Managing a team forces Hayden to deal with on-field conflicts and making sure players pay their money on time – challenges that have enabled him to develop communication and organisational skills which are transferable away from the field.
Hayden has also found a lot of joy from being in charge of a platform where his friends can play football and have fun, and his 15-year devotion to the local game has seen people become increasingly accepting of who he is.
"Social situations can be very daunting with the anxieties that we feel with autism and, at times, we are not sure how people will treat us or whether we will get respected," Hayden said.
"Autism is different in everyone, but being around a good set of people who have a knowledge of what it's about is the best way to feel more like yourself, which is what happened to me.
"At times it can be overwhelming, especially when there is an overload of pressure not just from work but sport, general life, yet I would not change what I do for the world.
"If I didn't have football in my life, I would have been isolated a lot which wouldn't have done anything for my physical and mental health. Nobody wants to be at home thinking, 'what am I going to do with myself all day' and routine is a key thing particularly for people with autism."
Hayden's relationship with football began with sessions delivered by the Arsenal Soccer School, which taught him about the basics of goalkeeping and saw him become a Gunners supporter.
Since then, his journey hasn't come without challenges. But Hayden insists coming through these has made him and his friendships stronger.
"My mum told me that a coach said, 'he will never be able to play in goal because he won't be able to concentrate on the ball'. That was a downbeat for me.
"When things don't always go my way, especially in sport, I can tell when a meltdown is coming; sometimes I need to be left alone to go out and get some fresh air and just calm down.
"It takes people with autism more time to get back up to the positive frame of mind. That's what happened to me but ever since it hasn't phased me, and the more I keep playing and learning the more it has made me a better goalkeeper.
"With the world of sarcasm, I had to learn the hard way with one of my friends – he would say things and I took it very literally. But by playing football with him and learning how he does it, I've come to understand it a lot better and when to notice it.
"Understanding me can take a while, but he got there quite quickly and everyone else who was around him accepted me for who I was and we've become lifelong friends ever since.
"That's one thing I always will appreciate with him, and also my family and close friends and those who gave me an opportunity in football.
"It's the reason why I am more encouraged to do sport and go out in general – it's given me more confidence and I can't thank those people enough for that."
As a result, Hayden has since tried other sports as well as football.
After regularly practicing badminton at his secondary school, he successfully competed in both singles and doubles tournaments in the local area, before moving to Staffordshire University and joining the ultimate frisbee team in his final year.
Ultimate frisbee combines the rules of netball and American football, where two teams compete against each other to catch a frisbee in the opponents' end zone and score points.
Hayden took part in a beginners' tournament in Loughborough, which saw him play with and against other people who were new to the sport, with his Staffordshire team going all the way to the final.
"I never thought I would ever get into the final of any sport at university. Not just myself, but the whole team in general felt like we were doing well for ourselves to get us to where we were.
"At the beginning we had enough people to rotate [on and off the pitch] but someone got injured and we still soldiered on.
"To get to the final and have one less player encouraged us more, and although we lost, there's nothing we can take away from it other than positivity and I was grateful to be a part of it.
"I was very homesick at university and ultimate frisbee made me feel more welcome than I did in other participation sports at university. Even if you're not the best player, all they cared about was that you enjoyed yourself, took part, and was socially involved with people.
"Learning a new sport can be difficult for me with autism – learning different ways of throwing the frisbee, backhand or forehand or over your head, and how to defend and attack the opponent. It takes an understanding person to instruct how you to do things which is the one thing I really loved about joining frisbee.
"It's nice to have reassurance that you are good at it and good as who you are; don't change yourself."
Having graduated from university in 2019 with a degree specialising in the designing and programming of video games, Hayden aspires to one day have a career in developing user interfaces in esports.
For now, he is working at a local betting shop which combines his interest for sport and his skill when it comes to dealing with statistics.
"With numbers, dates, sports I can memorise a lot of that because they are subjects I enjoy.
"The job I do at the moment is money related, taking and giving out the right change, and autism helps me a lot.
"I've felt so welcomed by staff, even when I told them about autism. They've always adapted and understood who I am and because of that it's made my life a lot easier.
"I always have to be punctual and I don't like being wrong – for someone with autism it takes longer to process through it and understand why this has happened. But if you don't make mistakes in life you will never learn.
"Even though autism can be difficult, it can also be a very nice and helpful thing to have. If people stay true to themselves then it can't stop anyone from doing what they want to achieve in life.
"As long as you believe you can do it, it doesn't matter how long it takes. Getting there in the end is all that matters."