Fan Focus: Luke Degilbert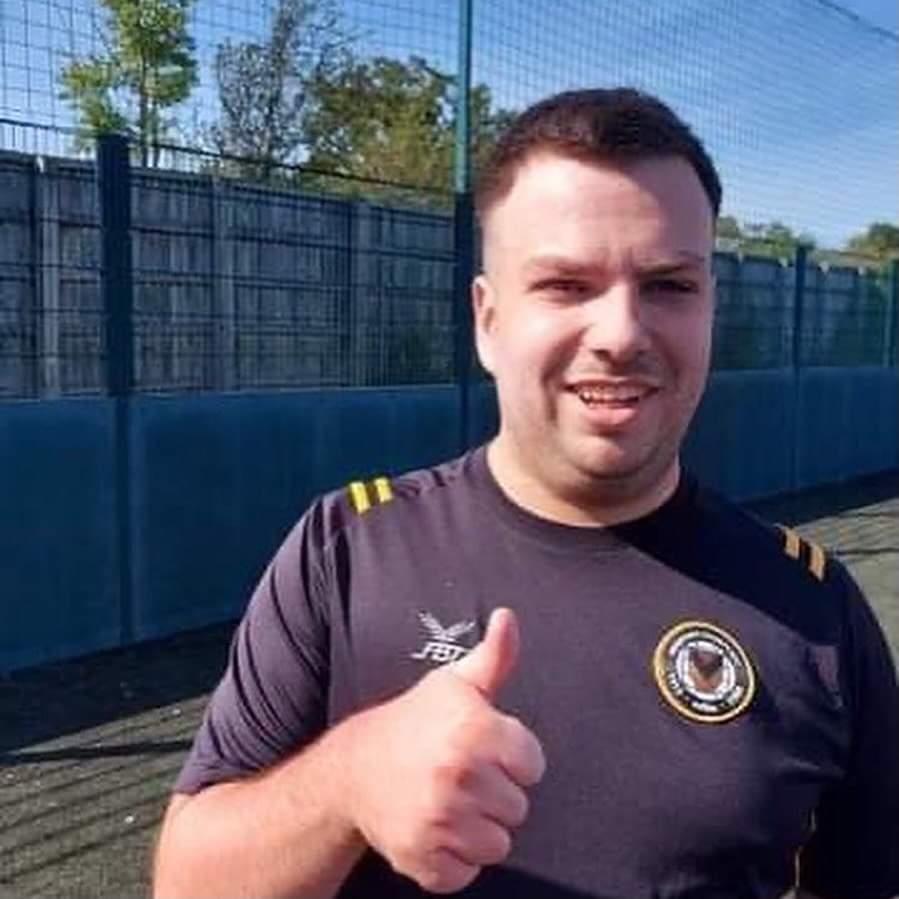 ---
Luke, from Newport in Wales, has autism and plays walking football on Thursdays as part of the community programmes led by Newport County – a professional club in the fourth tier of English football.
Like lots of people around the world, he lives and breathes football.
He also plays for the club's We Wear The Same Shirt team as part of an inclusive football initiative that tackles stigmas around mental health.
He then plays matches against other teams each month, often on the County first team pitch at Rodney Parade and following the footsteps of the professional players.
When he's not on the field, he's watching football on the television or from the stands. Luke is a Newport County fan and also enjoys supporting Burnley, who were a Premier League team in the 2021/22 season.
We recently spoke with Luke and hope his enjoyment of football can inspire others to get involved in sport as well.
So, what have you been up to, Luke?
I had a game against Swindon a few weeks ago, playing for Newport County's community team. We played on the pitch at half-time which I had done before and I enjoyed it. I enjoyed playing in front of the fans.
What do you like most about playing football?
For the team I play for, I like the training sessions on a Thursday because everyone comes together as well and enjoys it. I get excited and sometimes nervous – I like training and playing and doing my best.
My coaches are ex-professional footballers, and they know about autistic people as well. It's an inclusive place.
Have you made friends from your team?
I like that my friends have banter and chat. We talk about football and they wind me up about Burnley. We talk about Newport County as well and how they are doing; some are Liverpool, Manchester United, Arsenal fans as well.
From Swindon I have made a few friends – I like walking to games with them, playing games and having a chat with them.
What position do you play?
Centre-back. I like how you have to mark the forward – in a game the other day I was marking one of their forwards and he couldn't get the ball, because I was tackling for the ball and getting it away.
I like the way I have to pass if I'm playing centre-back, and sometimes I score goals. The only thing I struggle with is getting goal side of the player because you don't know where that player's going, but sometimes everyone struggles with things.
What are your training sessions like?
At training we do a warm-up, when you have to go for a jog and do stretches. Then we do a bit of shooting and dribbling, and then we go for a game at the end. We also do passing and teamwork as well because the coaches try to get everyone to pass, as some like to shoot all the time.
It helps develop people because it uses teamwork; teamwork is good to benefit themselves outside of football as well. They are my favourite drills.
What else do you do when you are not playing football?
I work on a matchday for Newport County. I help with matchday visits and the half-time kick about, and the guard of honour. It's fun and all the County players walk past which is really nice. I get to watch a little bit of the game before and after half-time as well.
In the future, I would like to get a job for Newport County because I only do it as a volunteer at the moment.
I've seen you have done a blog previously as well. How was that?
When blogging, I was writing about Burnley matches and Newport County matches. I enjoyed writing about them and how they got on. Sport and numbers go well together, which is good for rating how the players have done.
You are a big football fan as well, aren't you?
I follow football in lots of different countries as well. All the time I watch football – Premier League and all the EFL leagues.
And have you been to any games recently?
When I went to Burnley's game against Leicester in the Premier League [in March], I was really anxious because I hadn't been there before.
But it was really good because I met Sean Dyche. He was really nice, and Jack Cork and James Tarkowski I met too. They were really nice as well – they were focused as we were in the stadium and they were warming up, but it was good to meet them.
How did you find the matchday experience?
It was really good – the Burnley fans were great, singing and all that. I was singing too.
I went to the club shop at Burnley and got a training top and I had a look around; the stadium was really nice as well.
I sat by the Burnley players and it was nice to watch them warm up. I went with my brother, we went on the train and stayed overnight.
Who are your favourite footballers?
Lots of them! Toni Kroos, Alphonso Davies, Matt Lowton, James Tarkowski, Sam Vokes, Joe Allen, Jordan Gabriel, Tyrese Campbell, Jacob Brown, Thomas Müller, Robert Lewandowski, and Joshua Kimmich.
What do you like about them?
I like the way they play and the way they pass with their quality, and I enjoy the way they use their strengths and abilities. As I usually play centre-back, I like the way some of them tackle and go for the ball, and I like how some of them aim at the goal sometimes too. Midfielders do all that too, as well as dribbling and passing.
How important is it to improve acceptance of autism?
It's really important to raise awareness of autism because it will help with confidence and get other autistic people feeling motivated to do things, like playing football and going to watch football. Just enjoy it.
So you would recommend that other people get involved in football?
I recommend football to anyone so they can enjoy playing and come together to meet new people.
It's really important [that clubs grow their community programmes] because we want more community teams to join us. We are trying to do that, because it's only us and Swindon at the moment that play each other.
What else would you like to add?
I want to mention the guys at the civil service club as they are the ones that let us train – they are Matthew, Ben and Rob. My coaches are Emily, Norman, Dave, Dan, Liam, Cori, Emily, and Mike.
What have you got coming up?
I'm going to see Harry Redknapp live at Newport in July and now that Burnley are in the Championship [the second tier of English football], we are thinking maybe Cardiff and Swansea will be good to go to next season.