Sean Baker: Spectrum Sensory Sports
---
Sean Baker had a dream to provide a club to cater for neurodiverse people.
"I took my kids to various different provisions in the local area," he said. "But there's a big gap in the market around what's available for them, and with me having autism and ADHD myself, this is something I also grew up with.
"I had the idea and took it to someone I knew at Charnwood Council, and they said it was a great idea and put me through to the right people.
"Literally that month I was on my way to being a CIC [Community Interest Company], and then a couple of months later, I was all set up and it's becoming common knowledge around Leicestershire."
Based in Thurmaston, Leicestershire, Spectrum Sensory Sports hosts activity sessions that aim to increase the confidence of people in the local community, and improve their wellbeing and social skills.
"We've got social classes on a Tuesday and Friday for a range of ages, and we've got inclusive football on a Saturday. We want to do some classes for adults too going forward, and I'd like to get someone in to do some boxing classes as well.
"It's good to get outdoors, get fresh air, and meet new people. But there's sports you can do on your own as well; it's all about the individual and the sports they want to do.
"We also have computer games, as there needs to be a balance between everything. We do a broader spectrum of things because when my generation were kids, we were out climbing trees and playing sports, we didn't really have a lot of computers but now everything is geared towards them.
"I try to involve computer game-based things into sport so it makes it more interesting for the kids who wouldn't necessarily get into sport, and they go really well. Everyone can go on the internet and follow a plan and run a sports session but not everyone can do what we do.
"We've also got air hockey, table tennis, pool tables, retro consoles, and space outside and inside that we use to play games, as well as music and sensory laser lights for a disco."
Sean has created a relaxed space for the children to enjoy themselves and interact with each other. His two children, Colton and Eva, aged 10 and 14 respectively, have been a huge inspiration for him starting the club.
"Everyone wants the best for their children, and this is my way to help guide them through life as best as I can. They're my world and if I can make life easier for them and other children then that's what I want to do.
"I wasn't diagnosed with autism until I was an adult; sport for me was hard and I didn't really get along with a lot of other kids, and I was quite lively with my teachers at school. There wasn't really inclusiveness, not like nowadays."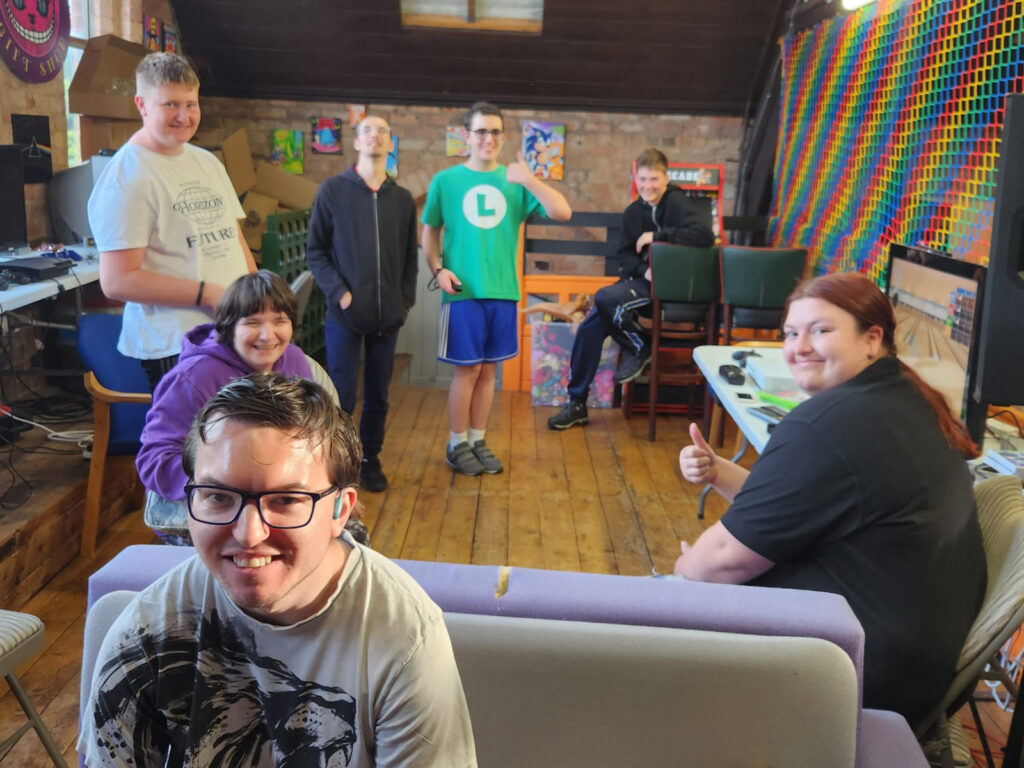 While childhood provided challenges for Sean, he found sport, particularly football and boxing, to be a great outlet for him and thinks it can do the same for other children.
His new project with Spectrum Sensory Sports is also positively challenging him in new ways.
"It's been hard as I'm dyslexic, meaning my spelling can sometimes be back to front when I'm doing emails to counsellors and other businesses. That can be a bit of a pain because I'm not used to writing, but I'm getting there and am improving on it.
"I've got to take this at a pace I'm OK with and build it eventually if I can. My plan is to have little bases like mine spread out; I don't want this to be a one-off place because everywhere needs provisions.
"Perhaps one day we can have a big base with a football pitch, where we can put on loads of different classes and it can just be a lot bigger. I see every week people coming in and I can see a massive change in their behaviour, making friends – it's great to see.
"We're getting good feedback from everyone, and we've been working with a couple of local provisions that are bringing kids to us in the day. On Facebook I've had countless reviews from parents saying their child's confidence is growing after just a couple of weeks."
There have been several contributors that have helped Sean turn his fantastic idea into a reality through donations of money, equipment, and facilities. The National Lottery donated money for Sean to get air conditioning and heating units at the facility and Sport England provided members of staff to help with the running of the club as well as boxing equipment, in addition to grants and support from local counsellors.
So, what's Sean's biggest message for people who have been inspired by his club?
"If you've got ideas, don't sit on them – try and do something with it. If you just sit on ideas and put them on the backburner nothing ever gets done.
"I'd recommend going to your local council if you think there's something missing in the community they're always looking to help out and point you in the right direction."